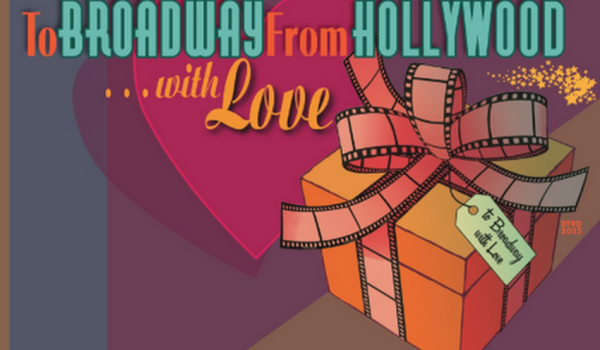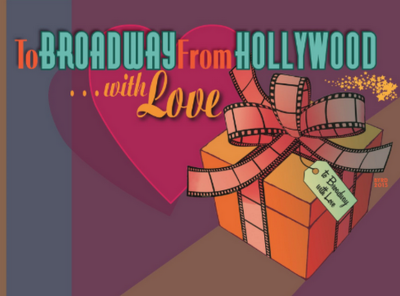 Southland Theatre Artists Goodwill Event – Los Angeles (STAGE LA) is back at it with its 31st annual star-studded gala to raise funds for AIDS Project Los Angeles (APLA).   Following the standing room only success of last year's Hollywood themed, "Stage Goes to the Movies", this year director David Galligan and first-time musical director Brad Ellis take to the footlights of Broadway with "To Broadway, From Hollywood….With Love".  Once again, the all-singing, all-dancing, all-star event is being held at the historic Saban Theatre on May 9th, 2015.
A vibrant and exciting convergence of stage and screen, "To Broadway, From Hollywood…With Love," promises to be a spectacular event highlighting many of the most memorable musical moments created for America's Great White Way which were derived from Hollywood films.
Stars of the silver screen, Broadway and television already scheduled to appear include:  Loni Anderson, Obba Babatunde, Adrienne Baron, Mary Jo Catlett, Carole Cook, James Darren, Loretta Devine, Nancy Dussault, David Engel, Barbara Eden, Julie Garnye, Thea Gill, Jason Graae, Gregory Harrison, Sally Kellerman, Jon Maher, Melissa Manchester, Pat Marshall, James C. Mulligan, Patricia Morison, Robert Morse, Donna Pescow, Jake Simpson, Sally Struthers, Donna Theodore, Lisa Vroman and Adam Wylie.  And the stars just keep on coming!
Created in 1984, STAGE is the longest-running annual HIV/AIDS fundraiser in the world. To date, STAGE has raised more than $5 million for HIV/AIDS organizations in the Southland. Founders and co-creators Michael Kerns and James Carroll wanted – and needed – to  do something to help ease the pain and suffering of those individuals and their families battling AIDS.  Through that desire and determination, their dream became the Southland Theatre Artists Goodwill Event.  Calling on former Dramalogue scribe and theatre director David Galligan, the group began what is now a 31 year tradition of putting on a benefit with proceeds to benefit those afflicted with AIDS and their families in the Southern California area.  Galligan has staged and directed all 31 productions.
As long time STAGE champion and veteran performer Carole Cook recalls, "In the early days, we'd pay their rent.  At that time there was no support group.  There was nowhere to go to get any help.  About 25 of us went in together, we formed our own little thing, and I remember so clearly, we would get the names of people as things happened, we would all of us – my husband, myself and everyone of them – would put money in a pot and as people began to be ill, we pooled our money once a month.  Everybody put in "X" amount of money and we paid for their rent, we paid for their animals, and got them food when they needed food."   She is quick to note, however, that it's because of foundations like AMFAR that much needed research dollars flooded in.  "Because of the research, that's why people live longer today than they did."  Today, funds raised through STAGE support APLA programs including its Vance North Necessities of Life Program food pantries; freestanding and mobile dental clinics; in-home health services; housing assistance; HIV prevention and testing efforts; and a range of other APLA services that thousands of Angelenos affected by HIV/AIDS depend on.  STAGE is among the most enduring and valuable sources of private support for the agency's HIV/AIDS care, prevention and advocacy work.  www.apla.org
Always thinking of those in need and looking at the bigger picture, perhaps Carole Cook sums up STAGE and this annual gala fundraiser best.  "I  know everybody has their charities so kind of what I call 'AIDS fatigue' has set in because people go on to – and I hate to say it – but other diseases.  But AIDS is rampant now.  We just think of here.  It's rampant all over the world.  Africa is dessimated. . . .Families are wiped out.  Children, little children.  So the more we do, the more it's helpful for the world. . .You can't be complacent."
"To Broadway, From Hollywood…With Love" takes place on May 9, 2015, at 7:30 p.m. at the Saban Theatre, 8440 Wilshire Boulevard, Beverly Hills, California 90211.  For more information or to purchase tickets go to www.stagela.com.