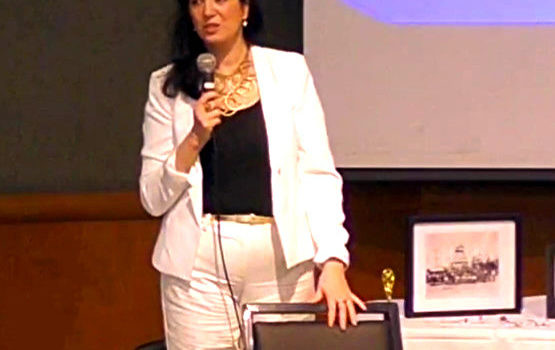 Culver City is turning 100 and "The Heart of Screenland" is celebrating the event in style, and that includes this special conversation and presentation with ALICIA MAYER, great-grandniece of the legendary LOUIS B. MAYER.
Everyone who has any connection to Culver City, or who has ever seen a movie, knows the name of "Mayer." Louis B. Mayer was the legendary head of Metro-Goldwyn-Mayer, the studio with "more stars than there are in heaven." He gave the world stars like Greta Garbo, Clark Gable, Joan Crawford, Jean Harlow, and Norma Shearer, along with other fabled actors, producers, directors, and designers, while making MGM the home to some of the famous films in history, "Gone With the Wind", "The Wizard of Oz", and "Singin' in the Rain" among them. Mayer's sister, Ida Mayer Cummings, devoted her life to Jewish causes and was such a powerhouse fundraiser in Los Angeles that Bob Hope once quipped Ida was, "the only woman I know who can grab a man by the lapels through the telephone!"
As the family historian, ALICIA MAYER has taken on the responsibility of maintaining the Louis B. Mayer legacy and is the custodian of hundreds of photos and documents relating to the Cummings and Mayer families and MGM. In this special Culver City Centennial event, Alicia shares never before seen photos, memorabilia, insights, and anecdotes on MGM, Louis B. Mayer, Ida Mayer Cummings, and Alicia's own beloved (and glamorous) grandmother Mitzi Cummings – all members of one of Hollywood's – and Culver City's – "first families."
Hosted by the Culver City Centennial Time Capsule Committee, as part of this special presentation and conversation, Alicia is also donating some rare MGM/Mayer photos to include in the time capsule. At the end of this presentation, you'll get the first peek at which photos will be interned for future generations to see!
Moderated by film critic debbie lynn elias, this conversation with ALICIA MAYER was held on August 6, 2017 in the Rotunda Room of the Veteran's Auditorium in Culver City, right across the street from the famed Lot One of the original MGM studios.