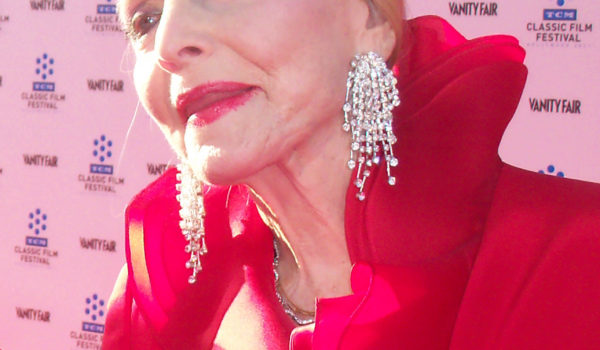 September 27, 2017 – Word broke earlier this evening that the ever-elegant and classic ANNE JEFFREYS has passed away.  She was 94.
Born Anne Carmichael on January 26, 1923, in Goldsboro, North Carolina, she began her career as a model for John Robert Powers Agency in New York.  Managed by her mother, Jeffreys trained in voice intending on an operatic career.  She made her stage debut in a 1940 production of "La Boheme" and the following year won a role in the musical review, "Fun for the Money."  This led her to Hollywood and her first film role in 1942's Rodgers & Hart adaptation of "I Married An Angel" playing opposite Nelson Eddy and Jeanette MacDonald.  As luck would have it, this would prove the final screen pairing for Eddy and MacDonald.
As part of the studio system, Jeffreys was put under contract first by Republic and then RKO leading to roles such as "Tess Trueheart" in the "Dick Tracy" series, and the musical "Step Lively" opposite Frank Sinatra, as well as a series of westerns and period pieces like "Wagon Tracks", "West Valley Manhunt", "Dillinger" and "Flying Tigers".  Balancing a career between Hollywood, Broadway, and symphonic performances, Jeffreys appeared on Broadway in productions like "My Romance", "Bitter Sweet" and "Kiss Me Kate", and performed in the opera "Tosca" and Kurt Weil's "Street Scene.
It was while performing "Kiss Me Kate" on Broadway that Jeffreys met the love of her life, actor Robert Sterling.  Marrying in 1951, they had three sons and were married 55 years until Sterling's passing in 2006.  Their chemistry extended both on and of screen leading the couple to tour with a successful nightclub act.  So engaging, they were cast in the 1953 television comedy "Topper", developed following the success of the Cary Grant and Constance Bennett film of the same name.  Jeffreys played "Marion Kirby" and Sterling was cast as husband "George Kirby".  Leo G. Carroll also co-starred.
As time marched on, Jeffreys focused more on being a wife and mother, but still took time to appear on Broadway and in regional productions of, among others, "The King and I", "Camelot", "The Sound of Music", "Bells Are Ringing", "Kismet", and "Pal Joey".   A familiar face as a guest star on television sitcoms and dramas alike, by the 1980's and 90's, Jeffreys became a household name again to a new generation of television viewers when she was cast as Mitch Buchanan's mother and spent five years on "Baywatch".  She also caught the attention of the daytime soap world when she was cast as "Amanda Barrington" on "General Hospital".  Spending 20 years and 361 episodes on GH, she also brought "Amanda Barrington" to GH spinoff, "Port Charles" for five years.
Anne Jeffreys' final film role was opposite Danny Glover in "Sins Expiaton", the shooting of which she completed in 2011 just prior to the TCM Classic Film Festival.
Appearing alongside lifelong friend Ann Rutherford ("Gone With The Wind"), the two were longtime red carpet favorites, making one of their final red carpet appearances at the 2011 TCM Film Festival. Rutherford passed away on June 11, 2012.  Anne Jeffreys was by her bedside.
Take a listen to Anne Jeffreys and Ann Rutherford on the TCMFF carpet to chat with film critic debbie elias.