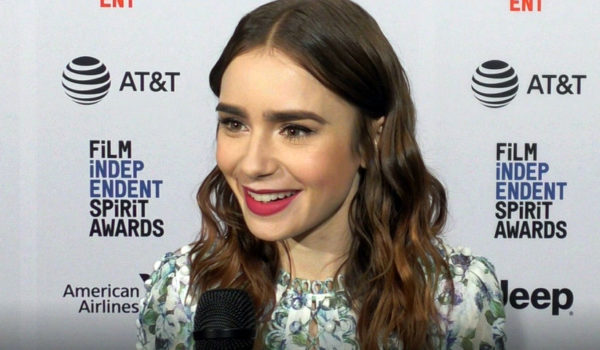 ON THE CARPET:  LILY COLLINS, Actor.
On Tuesday, November 21, 2017, Film Independent announced the nominations for the 2018 Film Independent Spirit Awards.  The "crown jewel" of Film Independent and one of the brightest stars in the world of independent film, the Spirit Awards are the primary fundraiser for Film Independent's year-round programs which cultivate the emerging filmmakers and promote diversity within the industry.  Film Independent President Josh Welsh presided over the press conference held at the Jeremy Hotel in West Hollywood, with actors Lily Collins and Tessa Thompson presenting the nominations.
By the time all the nominees had been announced, the big winner of the morning proved to be CALL ME BY YOUR NAME, picking up six nominations, including one for Best Feature plus Best Female Lead for Frances McDormand who also looks to be an Oscar frontrunner.  Hot on the heels of CALL ME BY YOUR NAME is GET OUT and GOOD TIME, each with five nominations, followed by Greta Gerwig's LADY BIRD with four.  Nominees for Best Feature included CALL ME BY YOUR NAME, THE FLORIDA PROJECT, GET OUT, LADY BIRD and THE RIDER.
After the nominations announcements, Josh Welsh, Lily Collins, and Tessa Thompson took to the red carpet and talked with film critic debbie lynn elias about the nominations, indie film and a few other surprises.  Take a look and a listen as debbie and Lily talk about the nominations and independent film!