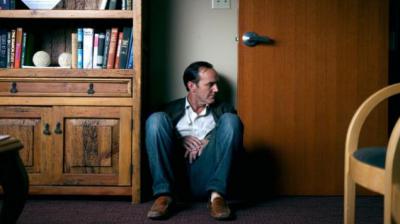 By: debbie lynn elias
Since the 2008 release of Choke, Clark Gregg's writing/directing debut feature based on the Chuck Palahniuk novel of the same name, on every occasion Clark and I have had the chance to chat, I always asked him the same question – When are you going to direct another feature? Always admitting he was anxious to get back behind the camera but didn't have anything lined up yet, last summer during the press day for Joss Whedon's Much Ado About Nothing, I again peppered him with my hopeful inquiry, only this time I was met with a much different response. "Don't worry! Something's coming!" Something indeed, as this weekend marks the theatrical release of TRUST ME.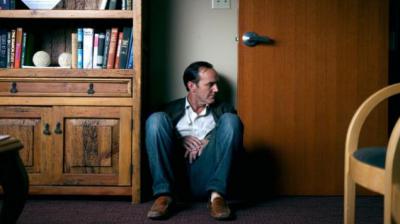 An original story written and directed by Clark Gregg, TRUST ME, surpasses anything I could have imagined as a follow-up film to Choke. With TRUST ME, Gregg does an amazing job; packing a punch not only as director, writer and actor, but as producer and in overseeing editing, music, casting and effects, his fingerprints are on display with every aspect of the film, and all for the better. Seeing the growth in his work not only as a writer, but as director, with TRUST ME, his visuals are richer, have more texture, serving as true visual companion to dialogue and performance. His storytelling is more fully fleshed out and alive. There is a fluidity of life with color saturation at the climactic apex that metaphorically speaks to the larger-than-life ideals that some have of "Hollywood" and "being a star." Nods within his character construct to cliche perceptions without making them cliche bode well as an almost cautionary tale, while his character of child talent agent Howard Holloway is a refreshing joy. From characters to dialogue to emotional beats, TRUST ME is filled with heart, humor and a lot of truth.
Sitting down for this exclusive interview with Clark Gregg gave us a chance to talk about all things TRUST ME, starting with his marked progression as a writer and director since Choke. Attributing his growth as a director to "a lot of things" and noting that "everything contributes something; the Marvel stuff; everything", perhaps one of the major keys is Gregg's observational skills. "I just try to keep my eyes open and I find influences and you see new awarenesses of stuff. The difference between making your first film and making your second film is so ridiculous. I don't know how anyone makes a first film because all the things you learn in making it are all the things you need to know to make a first film. [laughing] Just even the fact of editing a first film teaches you so much about how you want to tell a story and what you need to spend time on. Since we had five days less to make [TRUST ME] and half the amount of money than I did on Choke, I needed every bit of that."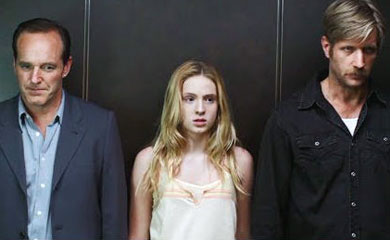 One of the biggest differences between Choke and TRUST ME is that TRUST ME is an original script. Having already tackled the adaptation of some heavily thematic source material, Gregg is quick to admit, "writing an original piece is easier than adapting. Adaptation is tremendously difficult because you have a relationship with the story that people who've never read that book won't. It's hard to separate. It's already something where you lose your objectivity as you go deeper and deeper into the process; you can't see it the same way someone seeing it for the first time does. And that's hard. You've got to be able to regain that objectivity and in a book you never get it back. In the case of [TRUST ME], there was a freedom to it. It's also kind of terrifying because you know the book works. Doesn't mean the movie's gonna work but you know the book works. [laughing] And you aren't sure your story is gonna work."
Already establishing a precedent of not sacrificing story and performance for visuals and vice versa, Gregg again paid attention to his cinematography, calling on cinematographer Terry Stacey as his right hand. Confident in the story he wanted to tell and the look he wanted it to have, Gregg found Stacey to be the man who could understand and implement that vision, resulting in a cinematographic lightness and beauty, rich with color and lighting texture.
Describing Stacey as "a great artist" and "one of our greatest cinematographers", Gregg knows how lucky he was to get him on board. "I'd been looking for a chance to work with him. From the first moment we sat down and talked about [TRUST ME], he just got what I was thinking. He kind of understood the evolution that takes place within the film, the different imaginative worlds that live within there, that it's kind of this first-person narrative to a certain extent, and also the style of the piece, the kind of mash-up that it is between kind of noir but has a light-hearted feeling in some moments and then shifts; like a lot of our favorite movies from the 70's. It also has to have a kind of warm inviting feeling to it and a beauty to it to let you kind of stick with it through the parts that are difficult and bleak. . .I don't know that I could have pulled it off without him."
Knowing that the visual tone was critical and necessary to balance some of the darker themes of the script, finding that perfect balance of color and lightness was essential. " [Terry Stacey] would stand there on set kind of toning the color, make an initial pass, right there as we were doing it." Thanks to Stacey's understanding and skill, it allowed Gregg to focus on what he was doing. "I could have the briefest of conversations with him about how we were gonna cover and what the true shots were gonna be, in a way that let me to just focus on the acting and directing for the most part and every once in awhile just check in and see what he was thinking."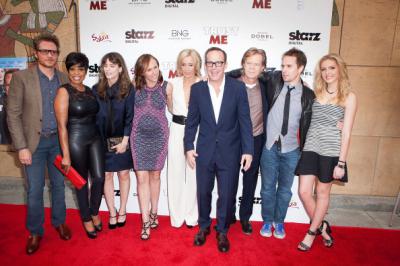 Storyboarding "some of the key most intricate sequences, specifically the ones that used visual effects", Gregg wanted to do more preparation with Stacey but quite often they wouldn't get their shooting locations until the day before. Pre-planning shots as much as possible, "We went through the script and we really knew what the important dynamic in a scene was, what the storytelling aspects were. . . [We] looked at the locations, planning out how we would gradually seep in more and more aspects of the film noir." As we see for ourselves on screen, TRUST ME "starts out with a very broad hint that it's a film noir a la Sunset Boulevard, but then kind of really exists in a different world and lets the audience kind of forget about that for a while and then gradually lands on where we're going back to."
Another key filmmaking element is music and Clark Gregg understands the importance and power of music to a film. "There's got to be a dynamic with what you're hearing so that it isn't making people feel manipulated." He found that with Mark Killian, who wrote a score that captures the emotional essences of TRUST ME without overpowering the story or leading the audience. As described by Gregg, "When you have a tone that has real sadness and comedy in it, [the score] needs to be something that will support both. It can't feel like a new score for these moments." While it took Killian "awhile to find out what the hell I was thinking", once he did, "He just worked relentlessly and tirelessly. He's a true artist and found people who would come in and play organically; the trumpet, the beautiful muted trumpet." The end result is a score with which Clark Gregg is "desperately in love with".
One of the biggest surprises with TRUST ME is the visual effects that are employed. Written into the story and not just inserted as something cool, VFX was a whole new arena for Gregg. "I'd never done it. There was nothing like that in Choke. Choke was completely kind of 'whatever you can jerry-rig on the set' were the visual effects. And yet I've been around it a lot. I'd seen it done a lot on the Marvel movies. It was something that I found myself a bunch of times wanting to do, in the script process." Initially unsure of whether or not to push the envelope and go for it with the visual effects, Gregg recalls thinking, "But you get a little older and you think, 'Why? Why not go for it? Why not take those chances?'" Taking the advice of his mentor, playwright David Mamet to "make the kind of movie you'd want to see", Gregg moved forward with his ideas and the incorporation of VFX.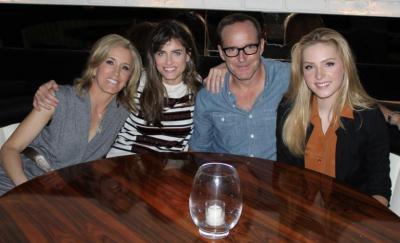 "Luckily I was able to find a way to make a version of this movie that I really wanted to see. The visual effects [smiling] were the last thing to come. We'd run out of money and people were saying, 'Is there a way to re-craft this so you don't need any of that stuff?' And I was [saying], 'That's the movie.' If it hadn't been for this company, Luma Pictures, deciding that they were artists and not just kind of artistic business people. . .; they showed up. They supported the creative process of this. It makes the whole difference in the movie. They saved the movie." An unexpected visual and emotional surprise in a film like TRUST ME, it's a testament to Clark Gregg and his vision and the folks at Luma Pictures for what we see unfold. "They do beautiful work. A lot of people do you a favor and you get kind of their short ends, discarded pieces, and these guys brought it as if I was Marvel paying them a ton of money. I was really moved by it."
Already known and beloved around the world be he S.H.I.E.L.D.'s Agent Coulson, Shakespeare's Leonato, Agent Michael Casper of The West Wing, Old Christine's Richard Campbell, Jennifer Grey's husband or as now, Howard Holloway, with TRUST ME Clark Gregg now solidifies himself as a writer/director. No flash in the pan, but a gifted storyteller with an eye and a voice. As Gregg himself thoughtfully posits, "There is a creative satisfaction to bring something into the world that didn't exist. . .The full process of the crafting of a story, the casting, the layers of texture, the music, the cinematography. I fell in love with movies. They changed my life. And I fell in love with stories, telling stories. The idea that you can invent a story that could, in an ideal situation, touch people the way you were touched – there's a level of kind of raw, visceral connection with people that is resonant. At the end of the day it sticks with you, it feels meaningful and really deepens you. It's a reciprocative growth. You give something and it feels like it makes you fuller. . . It's just always been this really deep hunger I've had to find a way to try to do that."
May more scripts and more directorial ventures keep fueling that hunger. Clark Gregg. Actor, writer, director. A man in whom we can put our trust.
#
5/22/2014