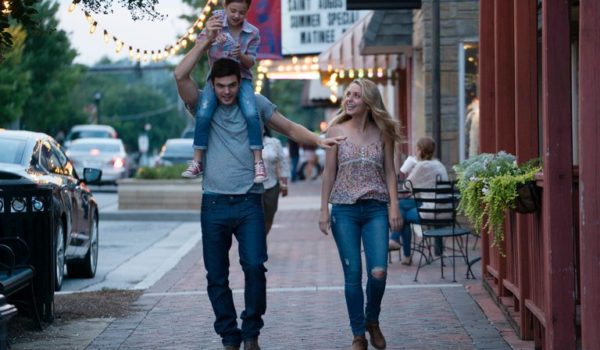 Harkening back to a more civil time than what permeates much of today's zeitgeist, with FOREVER MY GIRL writer/director BETHANY ASHTON WOLF taps into the sweetness and charm of not only romance, but the celebration of family, friendship, community, and the purity of love.  Adapted from Heidi McLaughlin's novel, Wolf takes us on a journey of young love, a young man finding himself, a journey of forgiveness and redemption, and a reawakening of the homespun core values held deep in one's own heart.  And she does it all with a story that lovingly embraces country music.
FOREVER MY GIRL is the story of small-town boy turned country music superstar Liam Page.  Leaving his fiance Josie at the altar, Liam chooses fame and fortune, leaving town and Josie, and never looking back.  But after eight years in the spotlight, Liam has learned one thing –  the grass isn't always greener on the other side.  While never forgetting the love he left behind, it takes a tragedy to awaken Liam to the life, the love, and the people he turned his back on, sending him back to the small town where he grew up and forcing him to face the consequences of his prior choices.  A refreshing respite for the whole family, FOREVER MY GIRL bodes some superb production values thanks to production designer John Collins and cinematographer Duane "DC" Manwiller, setting the stage as a perfect showcase for the film's stars Jessica Rothe [Josie], Alex Roe [Liam], Abby Ryder Fortson [Billy], and John Benjamin Hickey [Pastor Brian Page].
During this exclusive interview with BETHANY ASHTON WOLF, not only is her passion for the project evident, but her strong belief in the principles and themes of the story are clearly the foundations of her own life.
A wonderfully charming film, Bethany! It really takes us back to a quieter, more genteel, time.
Thank you for understanding that and seeing that. For me, that's what I want people to walk away with. Of course, it's this beautiful, epic, sweeping, swooning romance but at the heart of this movie it's a celebration of love, of family, friendship, music and most of all community. I really want to underscore that word community, especially right now in our country. Communities.  We talk about small towns, but also the communities within our small towns and the communities that we have in our bigger cities.  They're a safe haven. They're the people that have your back in good times and in also the very difficult times. I think there's such beauty in that. For me, that's my manifesto for this film in its broader strokes, to get back to celebrating that feeling that we have and the beautiful tapestry of our country. It's about our communities and how we gather together and take care of each other in the good times and also in the very difficult times. I think that's something that we need to get back to celebrating about this amazing, wonderful country of ours.
I agree. This is done so beautifully and not just through the story. By the way, I love the fact that you changed Liam from being a rockstar in the book to a country music star onscreen. I think it goes more in keeping with, as you were saying, in this day and age and the whole idea of country music and its roots of hearth and home I think. The small town feel, I think it works so much better especially for an onscreen story.
Thank you. The beauty of country music! I really wanted to represent the vast array of country music right now. I wanted to represent classic country, anthem country, pop country, folk country, soul country, all the vast array that we have that's really vibrating through, it's just permeating through the country right now. If you really look at country music, it is about the heartland. It's about homespun values. This film to me is about celebrating homespun values and getting back to the things that matter most, which is love, family, friendship, music, good food, laughter and the beauty of the safe haven, of a community. I think that if you look at country music and what it represents, it's a very similar feeling. What I really love is people that aren't country music fans. If you listen to the music, it's just feel good, gets in your heart and soul and lifts you up music. At the screen test some people would say, "I'm not a country music fan but I absolutely loved the music in this film."
The music is spectacular.
Oh, thank you so much. I started developing the music two years before we started shooting the film because I felt it was vital to this film, that it was equally as important as the screenplay and the film itself. For me, five years ago country music hadn't really crossed over. In the past two years you now see Justin Timberlake on stage with Chris Stapleton. You see Blake Shelton and Gwen Stefani, not just because they love each other, but you see this crossover between pop and country, and rock and country, and that it's such a movement. It's so beautiful that five years ago I was pitching this ahead of its time. It's just really beautiful, and serendipitous and fortuitous that it's all coming together right now when I think our country needs something to inspire us.
My husband and I are in the Writers Guild. I'm in the Directors Guild as well, so we have the screeners for all the films. There's some beautiful films out this year but I still find myself like, "Oh, that one's going to be so great but it's going to be so heavy. Let me get to that later." I need something to fill me up, to lift me up, to inspire me. The only way I know how to compare it to a feeling is the way "Blindside" made you feel. These are two very different films, but the feeling that you walked away with of getting back to what's important, and those homespun values, and just inspiring you and lifting you up, that to me is the win here. If I can make people have that feeling when they walk away, that's the win for us.
I think it's the perfect time for FOREVER MY GIRL. I see the public acclaim that's coming through for "The Greatest Showman" in which P.T. Barnum wanted to entertain, and uplift, and inspire and had dreams. The music in that film, people may say, "Well, it's not the best film." No, it's not the best film but you will walk away from it with a big smile on your heart, and you're tapping your toes and you are just lifted up to the sky. I think that the public, they're clamoring for this. Anything that has very vital, vibrant music, be it very theatrical and Broadway based or country based, I think that really is going to tap in. That music always connects with people.
Yeah, it truly was important. It wasn't something like I needed to develop it. It's a very hard thing to pitch. I pitched my take on the movie and they said yes in the room. I started writing the screenplay, but I kept saying how important I felt that country music was going to be to this film and that I wanted to start developing it at the same time. It's very hard to pitch something audible, so I went out on my own and hired on spec songwriters and singers. I didn't tell anyone and planned in our next development meeting to bring the whole band in and play all the music live for them in this development meeting. I did.
For about three months, all the music that you hear in the film is the music that I brought into this meeting at LD where they're all just opening up their iPads and their laptops, and getting ready. I was like, "Uh, guys? I have a live band waiting in the lobby. I'm going to bring them in and I'm going to walk you through the movie with all of the music." I didn't tell anyone because I knew it was such an unconventional thing to do, but I knew in my heart and my soul that it's what needed to happen. When I say LD embraced it, they were exactly what you were saying. They were joyful, and happy and clapping their hands. They were like, "Oh, we were making this movie before but now we're putting a date on this movie. We are making this movie right now, right here. Let's go." That is really beautiful in itself.
I love that you're really understanding that there's so much more to this movie than just the romance, that there truly is something for everyone in it. It is a romantic love story but it is also a father/daughter story. It's a father/son story. It's a brother/sister story. It's a story of atonement, redemption. It's a story about crossing over to find your own truth, and that it's never too late to find your own truth. We keep saying find your way back home, that doesn't necessarily mean literally home. It can, but it also means just finding your way home to your true self.
It's the home within your heart.
Yeah. I think that's such a beautiful message right now that we all need, and hopefully, fills us all up and puts a smile on our face.
You can have all the great music in the world and you can have a great story in the world and this sense of family, and community, and hearth and home but if you don't visually convey it, it will fall flat. You have visually conveyed all of this. You capture the small town feel. You invite us into this world of St. Augustine. John Collins' production design is fabulous.  The flower shop that Josie [Jessica Rothe] owns, that flower shop is beautiful. The display of all the different rose bouquets on the shelf behind the cash register, that was gorgeous, but your pops of color. Then you look to Duane's cinematography and your lighting, your lighting is superb. It captures the golden warmth of a yellow sun that you see in the south.
Thank you.  Thank you.  And no, that's not a happy accident. For me, when I see it visually, I see everything. For John and I, I have vision boards all over my office and John's office was right next to my office. I need to see it tactile. I have to be able to touch it and see it up on my walls, but also visually, storyboard and moving visuals so that we have a common language. For DC [Duane Manwiller, cinematographer] and I, I had a very distinct look that I wanted. I wanted warm golden tones. I wanted to pop it with lavenders, and pinks and ambers. With John, every little detail from [knowing] what Josie's pink shimmering gown was going to look like. Eulyn [Hufkie], my costume designer, started planning that five months before. I knew what Josie's bouquet was going to look like in the opening of the film. Every little detail was meticulously thought out. We were very mindful and thoughtful of it all.
That was such a dreamy experience to have a team that embraced the way I like to work. We really were just so joyfully just moving from room to room, or vision board to vision board. My moving visuals and all of the lighting was so important to me. It was an ambient lighting. Also, we were shooting inside so much, inside houses. It was very important to me to have depth. Shooting through rooms, through multiple rooms, through windows, through doors to open us up, and to always have the camera moving so we never felt stagnant. There's a lot of just two people talking. That can weigh it down and make a film feel small, so we just always kept movement, always just wanted to keep it visually stimulating and exciting. I love sunrises and sunsets, and I think I have 20 sunrises and sunsets written into this film.
 It's also very metaphoric, Bethany, because when you're talking rebirth and redemption it is like the sunrise and sunset on different avenues and aspects of your life.
Absolutely, and that we can all experience no matter who we are, what we do in life, money no money, whoever you are every day there's a sunrise and every day there's the sunset. There is something about slowing down and the beauty of a small town. I'm from a small town, and I really like to tell a story as a native and not as a tourist. There is something about slowing down, and sitting on your front porch and watching a sunset that's free, that is a gift from this beautiful earth of ours that we're given every day that so many people they're in their cars and they're driving and you don't even realize it's happening. It's one of the gifts of the earth and the universe, and that whatever higher power that you believe in that's given to us each day. I want to thank you.  As a metaphor, it's about the beauty all around us that we have that's available to us. We can either choose to stop and look at it, and take it in, and experience it or sometimes people are just whisking by and miss it. This film makes you stop, and sit down, and sit on that front porch with us and experience it.
 That's one of the things I love about this film, Bethany. I grew up in suburban Philly and spent much of my youth with my grandparents in the forested Pine Barrens at the Jersey shore. My mother grew up in Columbus, Georgia back in the '30s and '40s, and I had been to Columbus to visit my grandmother.  I still remember lazing on her front porch swing just "sitting" on an early summer afternoon.  And I've been to Omaha, Georgia where my aunt lives.  It's an entirely different way of life and look at the world.  It's a slower pace. At the end of the day you sit on your porch, you watch the sunset. You drive down the country road and there are no houses. There's nothing for miles. You really, really captured that feeling, not to mention the visual authenticity, so beautifully.
Thank you so much. I'm from Louisiana. I wanted this to be a love letter to Louisiana and where I'm from. It embraces all over our country, as you were saying. My husband is from the east coast. He's from a very small town, Amherst, Massachusetts. There's the same feeling there. I don't want it to be inclusive to just a southern experience or just a small town experience. It's that feeling that we have in all of our small towns and, again, in the communities and our bigger cities of just slowing down and enjoying the beauty that we are given each day on this earth. Thank you for seeing that and appreciating that. That means the world to me.
Something that you certainly did not overlook in this film was your casting, starting with Abby. Abby Ryder Fortson. I fell in love with Abby when I saw her in "Ant-Man."  To say she is not perfectly cast here as Billy. . . She is magic. She is pure magic. And her chemistry with Alex Roe is off the charts.
She's just so present. I call her, and called her on set, "my bright light."  She's just beaming of pure light and love. You can't help but just vibrate to how present and happy and joyful she is as a human being. She's so good, but to be as good in the moments where you're not speaking, watching her listen she's so present. She's so talented. She's lit from the inside out. She is just this beautiful bright light.  Abby and I have such a beautiful connection. I love that she always called me "my friend", "my director", and "my friend Bethany."  We were little buddies. She's just my sweet little partner in crime. She'd often bring a geode. I love crystals, and Abby loves crystals. A lot of times to set she'd bring a geode. I would say, "Okay, at the end of the day you and I will go in the backyard wherever we are, crack open the geode and then bury the crystals in whatever backyard we're in." It was such a beautiful thing to do.  As soon as we'd wrap, Abby and I would hold hands, run out the back door. It would either be her mom or dad with her, and they are the most beautiful parents as well. To have a child who is like Abby, you know you have amazing parents who are raising that child. We'd run into the backyard, break open our geode. I think it's so beautiful to know that little crystals are hidden in the backyards of each place that we were shooting. She was just that inspirational to me. Abby on set would say, "I want to be a writer and a director just like you when I grow up." I was like, "Abby, I want to be you when I grow up."
The other half of that most magical chemistry is, of course, Alex. I cannot believe this Brit is now perfectly cast in this leading man role with this incredible southern drawl. It is perfect, and he sings, and he learned how to play the guitar!
Alex is an extraordinary talent. He is so disciplined. His work ethic is so high. I wanted to take Alex on the journey of becoming a country star, and I wanted him to experience that journey of feeling like a country star. To command a stage of 20,000 people, you have to really feel what it's like. We started five months before. He started singing and playing with my music producer, Brett [Boyett], one-on-one every day. Then I got to take him to Nashville because he had never been to Nashville before.  I took him to CMA Fest, and I happen to be good friends with Little Big Town. They were performing that night, and so he got to experience what it was like to be backstage. It was Little Big Town, Keith Urban, Luke Bryan, Thomas Rhett performing that night. They were performing to 60,000 people. Alex, I can say he's not just an extraordinary talent. He works incredibly hard and is so focused and so disciplined. He really earned everything that you see. He worked really hard.  There's something so beautiful about him, he acts from his gut up. It comes out so unbridled and raw and organic, which makes it so intriguing to watch. At the same time, he just naturally has that gritty coolness that I needed Liam Page to have. It isn't something that you can act. It has to be something that you "just are" and Alex has that. To me, we haven't really seen that. I felt like I was looking for a throwback to old Hollywood magnetism to what James Dean had, and Steve McQueen and Paul Newman. I really do feel that Alex is an amalgam of those leading men. Those are beautiful shoes to fill, for sure. He's such a lovely, gracious, kind and thoughtful human being. He truly does remind me of Paul Newman. Paul Newman was so incredibly gorgeous and handsome and charismatic, but such a beautiful human being. I feel that that's what Alex personifies to me as a human being and as this incredible actor.
Bethany, having made it through FOREVER MY GIRL, having gone on this long journey, what did you learn about yourself in the process and take away from this experience that you can now take forward into your future projects?
You know, I've been doing this [filmmaking] 15 years.  This was a modest budget. We were shooting in Atlanta in 115-degree heat in August.  154 scenes with only 24 days.  We were shooting at warp speed. Even on an indie shoot normally you shoot a scene, you have a moment to decompress before you move into the next scene. We were moving so fast we would move from a scene to the next scene already lit, to the next scene already lit. We had to move that fast, and so I had to move my actors that fast. They are all on these protracting very specific arcs, especially Alex. Alex is in every single scene except for two.  For example, his father's house. When you're moving through a house and you're shooting out a house, he's moving from who he is at the end of the movie and then we walk into the next room and he needs to be where he is at the beginning of the movie. Then the middle and then the end, and then the beginning. Keeping each of my actors on their arc in that protracting arc so that when you're watching it in chronological order on film, it needs to really peel away each layer a very specific way at very specific beats or you don't have the film that we have. I knew that I'm good at that because I come from an indie background where I have to make really quick decisions.  I have to trust my gut. I have to know when we have a scene and when I need to move onto the next one, or I'll have to lose A, B, or C. I'd have to make those decisions – stay here, lose B, C, or D coming up; sometimes I would say lose D, I'll rewrite that. We need to stay here, or I know I have this. We need to move to C, D and E.  I knew I had that but it was beautiful really to see who I was under that extreme pressure. For me, the most important thing is the pilgrimage and experience that I have with my actors and my crew; that we were able to still keep it beautiful, joyful, happy, that I could protect my actors, and love my actors, and give them everything that they needed shooting that fast. I guess I walk away feeling a little bit stronger. Knowing how strong I actually am, that's a beautiful thing. I knew I was a steel magnolia.  That's how I was raised by a strong single mom, but I really got to see who I was in the absolute most extreme conditions. I'm extremely proud of that.
Bethany, again, congratulations on the film. I love the film. I can't wait to see what you do next.
Oh, thank you so much. I loved all of your questions. They're very thoughtful and very warm and very loving. Thank you.  As you know, given our modest budget and our short shooting schedule and that I wanted to have these grand epic set pieces, that it's truly, truly triumphant that we were able to pull that off. For all of us, we're beaming and over the moon for all of us: from my producers, to my crew, to my cast, that we all did it. We all moved a lot of mountains to make this film happen. It was definitely a collaboration. It wasn't just a village, it was a thousand villages. We did it all together.
by debbie elias, interview 1/17/2018