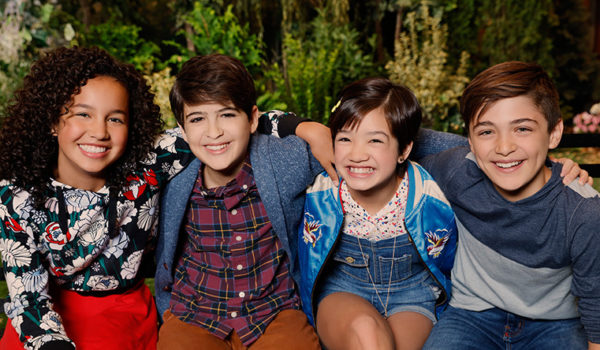 I recently caught up with Joshua Rush, one of Culver City's favorite residents and one of my favorite young actors, while we were in Burbank to talk about his new Disney Channel television series, Andi Mack. Still voicing "Bunga" in Disney's The Lion Guard, "Jeremy" in Star vs. the Forces of Evil and more, now Joshua can be seen and not just heard every week on Disney Channel's new smash hit Andi Mack.
Available on Disney Channel digital platforms and although it airs on the Disney Channel on Friday nights, with the absence of Saturday morning cartoons, Andi Mack is so engaging and fun it's the kind of show you want to binge watch alone or with friends, just lazing on the couch on a Saturday morning. Family oriented, but tackling some tough questions facing teens and families today, there is something for everyone.
Created and executive produced by acclaimed writer Terri Minsky, the driving force behind "Lizzie McGuire", and co-executive produced by Michelle Manning, known best for producing smash hits of the 80's like "The Breakfast Club" and "Sixteen Candles", the two join forces for a 21st century coming-of-age story about a 13-year old girl named Andi Mack. As with most 13-year olds, Andi is trying to find where she fits in the world. Luckily, she doesn't have to figure it out alone as along for the ride are her two best friends, Cyrus and Buffy. Newcomer Peyton Elizabeth Lee is custom made to play the effervescent Andi Mack while Sofia Wylie's Buffy is a perfect BFF. (And yes, expect a few "Buffy the Vampire Slayer" jokes to pop up.) And then there's Joshua Rush as Andi's other BFF, Cyrus Goodman.
Talking about the cast, Joshua quickly notes, "The chemistry between the whole cast has been so much fun." Of the younger cast members, in addition to being the oldest, Joshua is also the veteran among them and willingly embraces the collaborative nature of production as he "[is] able to help them along with some stuff because they are newer to this than I am."
As he is in real life, Joshua's character of Cyrus is a true fashion plate.  On the day of our interview, Joshua was as trendy as ever in a black and gray palette of La Miniatura pants and plaid shirt with Palladium boots.  Although Cyrus doesn't have the benefit of being dressed in Joshua's favorite La Miniature clothing line, there is still plenty of Joshua Rush infused in Cyrus. "Cyrus has got his own unique sense of fashion and it's cool. He's great. I love his looks and his quirks."
In speaking with Minsky and Manning, it is clear they have drawn much from Joshua for the development of Cyrus, noting those "looks and quirks" in Joshua like how he sneezes or how he ruffles his hair. According to Minsky, "It's because of who Joshua naturally is that's helping build out Cyrus." Joshua himself is excited that "Over the season you'll start to see Cyrus get more and more and more like Joshua Rush. It's a weird thing, but it's super cool! It's been so fun to be able to do that." As he talks about creating Cyrus, Joshua's sense of humor bubbles forth with uncontained excitement, proudly admitting "There are a number of Cyrus' lines which are actually direct Joshua Rush quotes!" For all who know Joshua, it's pretty easy to see which lines come from Joshua and which from Minsky's pen.
But Joshua is always the first to give credit where credit is due and does so when it comes to creator/writer Terri Minsky. "Something that's so special about Terri though is that not only is she this amazing writer, but she's also an awesome observer . . . She'll just watch us and sometimes we won't even know that she's there, but she'll watch us and pick up on our mannerisms and they'll go into the script. It's been weird because I'll see something in the script and think, 'Didn't I do that two weeks ago?' It's cool. It's really cool."
The role of a lifetime, Joshua is thrilled to continue working with Disney, eagerly avowing, "I LOVE Disney!" That ongoing thrill began when he first read for the part of Cyrus. Typically for an audition, actors are only given pages for a scene or two. Not so for Joshua and Andi Mack. "I had the ability, which is super rare especially on a Disney project because they usually like to keep it under wraps, but I was able to get the script in my first audition which was great! Terri [Minsky] happened to be there at my first audition. I came in prepared and I don't know if you know this, but a typical thing when you come into an audition is – and it's almost a formality at this point – they'll say, 'Do you have any questions about the character?' You always say, 'No. I'm okay.' I came in and I had so many questions, and I was so excited about this role, I pull out from my pocket an 8 ½ x 11 sheet of paper filled from top to bottom with questions for Terri. Terri and I got off on a great start which ended up translating into some really great one-liners and just general lines for Cyrus."
When asked why his friends and fans should see Andi Mack, Joshua is very thoughtful in his response. "There's something really real about Andi Mack that is unlike anything else on a kid's network right now. It's something that's so special to it. . .There's a realness to the show that you don't get anywhere else on any other kid's network. You really only get that on networks geared more towards adults and parents. There's something real and raw about it that's really special that I think people are going to be drawn to."
But at the end of the day, Joshua Rush is still just another kid in Culver City, although because of his work schedule he is now home-schooled, something which he loves. "It's great. I can stay home all day. I can even go nocturnal if I wanted to." The one thing that's not so great, however, is that he's growing so fast, he soon won't be able to wear the La Miniatura line, long a staple in his red carpet and everyday wardrobe. "I have this brand loyalty to La Miniatura." Their clothes not only fit the body well, but fit Joshua's personality. Known for being comfortable and for their use of plaids, a priority for Joshua, right now he is on a mission for a new clothing vendor. "I have to find someone who likes plaid as much as I do. Frankly, I'm this close to sweet talking some of the La Miniature brand heads to custom make [my clothes] or just buying stuff in a smaller size and going to a tailor and be like, 'Can you make this fit?'."
One thing is for certain. Joshua Rush and Andi Mack" are a perfect fit.
ANDI MACK is available now on Disney Channel digital platforms and airs on Fridays on Disney Channel.