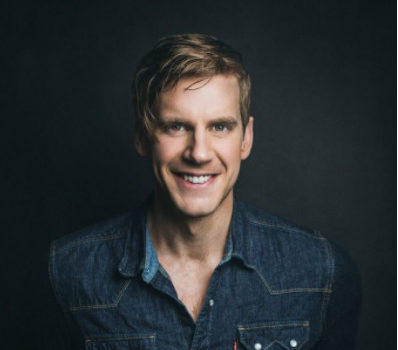 THE GOOD CATHOLIC is a thoroughly enjoyable and entertaining film from beginning to end thanks not only to Paul Shoulberg's script and direction, but fine performances and ensemble chemistry from Zach Spicer, Danny Glover, John C. McGinley, and Wrenn Schmidt. Unlike what so often happens with a film that even touches on elements of faith or religion, there is nothing in THE GOOD CATHOLIC which is preachy or could be considered offensive to anybody from any walk of life. With a story that boasts entertaining and resonant characters, posits questions about faith and love, an ending that is hopeful and happy with finding love in everything every day, even in the most unexpected places, THE GOOD CATHOLIC should appeal to audiences far beyond the perceived "faith-based."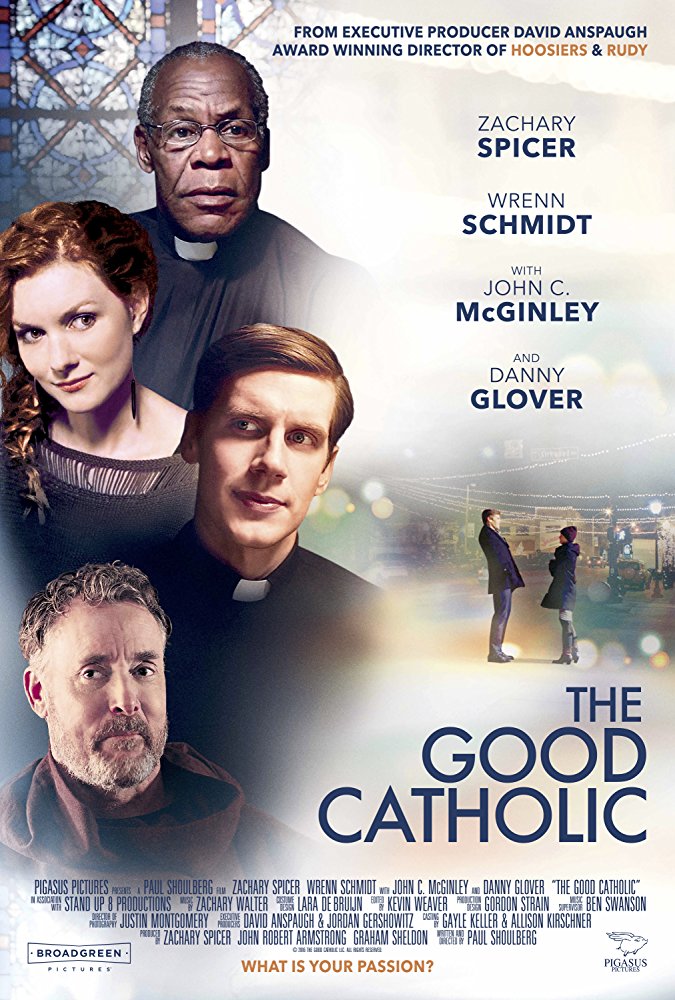 Loosely based on and inspired by the true story of Shoulberg's own parents – his father a former priest and his mother a former nun, both of whom were in service to the church at the time they met – in THE GOOD CATHOLIC, we meet Father Daniel (Spicer), Father Victor (Glover) and Father Ollie (McGinley). Daniel, a young man who ends up in the priesthood as a means to honor his deceased father, is still somewhat of a Franciscan novice and falls under the tutelage and guidance of Victor and Ollie. While Victor, an old friend of Daniel's father, believes in honoring the long-standing canons, traditions, ceremonies, and rites of the church, Ollie is a bit on the irreverent side with a lust and love for life, carbohydrates, and IU basketball. Between the two, it appears that Daniel is receiving a rather well-rounded training and on his way to becoming an exemplary priest; that is, until a late night confessional when he meets Jane, a young woman obsessed with death.
Carrying much of the acting load on his shoulders, THE GOOD CATHOLIC is perhaps the most challenging thing on Zach Spicer's resume to date.  However, Spicer doesn't just play Father Daniel in THE GOOD CATHOLIC. He is also one of the producers. Thanks to good friends, a collaborative spirit, and a whole lot of faith in himself and his partners, THE GOOD CATHOLIC finally opens in theatres this weekend.
I had a chance to speak with an enthusiastic, engaging, and very well spoken Spicer at length about his work in front of and behind the lens in bringing THE GOOD CATHOLIC, and Father Daniel, to life.
Because Father Daniel and Jane and their story are not only inspired by real individuals but also your ten+ year friendship with Paul Shoulberg, did you have any kind of trepidation coming into this role, especially since over the course of that friendship you actually met Paul's parents?
Yeah, I have. It was certainly intimidating to start off with. Regardless, whenever you're playing somebody who actually existed there comes an added pressure with that because people have a reference point to be able to go back to. It's not just their imagination. That is even more so when you personally have met the person and you respect the person. You know that an entire community respects this person and that he is beloved wherever he goes. To mess that up would be to do something pretty terrible.
In the beginning, yeah. I was nervous, but it was really to my benefit that I got to talk so much to Paul's mom and a lot of the people that knew Paul's dad. I met him once briefly at Paul's wedding several years ago, but he lived in Kansas. I didn't get to see him after that. When he passed away, I talked to all of these people who have known him so well. The spirit of him just comes through in everybody that talks about him. It just makes his personality and his traits so clear that at that point it's not confusing at all what it is that you're trying to portray, and the spirit of the person that you're trying to capture. He made my job pretty easy because he set out all of his intentions and all of his actions very specifically in his life.
Setting out all of the intentions and the actions is one thing, but then you have to then bring that to life. As Father Daniel, you create very distinct relationships with each one of the characters that you're working with, engaging with. You and Danny Glover, in his role as Father Victor, have one kind of relationship. And I love watching you and John [McGinley] going toe-to-toe with each other. That is the levity in the film. It's fabulous! Then of course you and Wrenn [Schmidt] together. Let me have you talk about developing the relationships with Danny and John in particular because I can tell you're on a different emotional playing field with each one of them.
Because the film itself is condensed where you get interactions with me and John, or me and Danny, or me and Wrenn, it's like dropping into different worlds every single time that you show up on set. It is not difficult to be in awe and somewhat intimidated by Danny Glover, just because of who he is as an artist and as a person. He's the nicest person in the world. There's no reason to be intimidated by him or by his personality, but you just sit there. I just respect the man so much and am in constant awe of him because he's been in so many movies that I have loved dearly my entire life. Then with McGinley, it's a testament to him as an actor that he brought that warmth and that levity to set with him. He made the process of doing those scenes so fun that it shows up naturally on camera. And it's the same thing with Wrenn. Acting with people with this quality makes my job so much easier because at that point I just have to show up and respond to what I'm naturally getting off of all these people. Doing scenes with John McGinley, I can do that for the rest of my life! I'd be fine. [laughing]
Of course, basically what you're telling me, and we'll keep it a secret, is you didn't have to do any acting in scenes opposite Danny because you were already in awe. You weren't just playing a young priest in awe, you were already in awe. [laughing]
That's right! That's 100% right! I was just standing there looking at Danny and thinking, "You were in WITNESS!" That's one of my favorite movies of all time. What I love about Danny is that he is a movie star. He's a legit movie star. He does that caliber work consistently but he's still open to stretching himself, pushing his limits, and working on these smaller indie rough and cut films. I have so much respect for that.
How was this overall experience for you? You've got a diverse resume behind you. You've done a lot of TV one offs. You've got soap opera cred with "All My Children." I still think that anybody who does anything on a soap opera at all, that really gives you great footing when you're going into indie films because of the very nature of the fast paced, limited time. Now, here you are in THE GOOD CATHOLIC and you are really one of the main leads. A lot of this film is riding on your shoulders. If we don't buy you as Daniel, we're not buying this film. Forget about Paul's dad and his mom, but for you as an actor, does that put any kind of onus on you when you realize you've got to up your own game because this is really your first big breakout role?
Well, one other thing on top of that, I started the production company that made the movie. I produced this thing for the past three years alongside John Armstrong, my partner. That means knowing that outside of being an actor and needing to deliver the performance that I think suits the film, I know every single thing that has gone into this film for the past three years. I've lived it. I've breathed it. Actually, for me, that made things a little bit easier. I don't mean that any of this was easy. I just mean that sometimes when showing up on somebody else's set, there's an added pressure that you just don't want to mess up this other person's movie.
You don't want to mess up on somebody else's dime. I knew everybody that was there working on the film. I knew absolutely everything that was at stake. For some reason, that gave me a little sense of calm to be able to do that with all of my friends standing around. I don't know what to chalk it up to other than I knew that there were a lot of people around me that did not want to see me fail. It made it a little easier.
Once you started shooting, were you able to take off the producer's hat? Even while you were shooting, did you find yourself switching between actor hat, producer hat?
I was very lucky. I had two of my college friends who were my co-producers on the piece, John Armstrong and Graham Sheldon. When they came on board, and it was specifically when I became an actor and I showed up on set, I had the privilege of stepping out of those producer conversations. I would come back in on the weekends and be like, "Okay, so where are we? How is everything going?" For the most part, I did not have to deal with a lot of that, a lot of the headaches around the problem solving on set day-to-day. I got the project set up on its feet and I handed it over to my friends and trusted them that they would do a good job and they did.
Because you have this production company and you're also an actor, I'm curious what will now be your primary focus? Are you looking for projects to produce or to develop, where they will be a vehicle for you? Do you like being more of the hands on producing or do you want to look more into the acting realm?
I don't think it's one or the other. I got to work with two of my heroes the year before we started doing THE GOOD CATHOLIC – Louis C.K. and Kenneth Branagh. Maybe it was a coincidence, but I don't believe in coincidences anymore, that both of them are actors who produce their own material. They produce their own opportunities. There's something about that that I'm very much drawn to. We're going into production of our next feature film this fall, again back in Bloomington, Indiana. It's written and going to be directed by Paul Shoulberg again. We found a little niche right now of being able to make movies for a certain low budget and if we continue being good storytellers then I could see this continuing to go. I love the whole process of creating something, that much I know. I love acting and I love working with my friends. If I can continue doing that, all the better.
You brought up a very big consideration and important name there with Kenneth Branagh, whom I adore. I will see anything that man does. Besides producing his own opportunities and starring in them, he also directs. Do you see yourself jumping into that arena as well and becoming a triple threat?
Yeah. This is not something to boast about, but I directed my first feature film when I was 22 years old. It is not for everyone. I wrote it, directed it, produced it, acted in it, edited it. I did everything in it. It's a very sweet, small, small film that my friends and family watched with glee. I've always had the interest of directing. I need to learn more. I need to just study being on set a little bit more, and just watching other great directors do it before I completely throw my hat in that ring. I certainly see it as being something that I definitely attempt to do someday.
Because I consider THE GOOD CATHOLIC to be very family friendly fare, maybe not for small children, but once kids get to the age of going to Sunday school or elementary school and learning about faith and love, and love within life, is this the kind of fare that you will continue to want to make both as an actor and through your production company?
Absolutely! I want to tie into the concepts of storytelling that are universal. One of the things that I love that is the message of THE GOOD CATHOLIC is this universal thought of compassion and love. Love for one another. Love as a romantic love. Love for God. You can take it in so many different directions. I think when you deal with those really big topics that sometimes are not explored in depth in film, then you're finding your largest audience. Those things that connect us and not push us apart, those are the things that I'm interested in exploring as an actor, and as a producer, and as a story teller. Yeah, I hope I keep making movies like that.
Having gone through this whole process now, producing a film like THE GOOD CATHOLIC, with talent like this, starring in it, what did you learn about yourself that you will now take with you into your future projects?
I learned that surrounding myself with good people is probably the best thing that I could ever do. The difference for me between THE GOOD CATHOLIC and my years as being an actor, and struggling and auditioning, that's all done alone. You're an actor in a waiting room alone going up against other people for a part, or you're an actor alone working tables dreaming about possibly doing something. [chuckling] I learned that if I find like-minded individuals that want to struggle along with me to attempt to accomplish a common goal, then there is nothing that we can't possibly do. I firmly believe that now because this movie was impossible. It was always impossible. We found a bunch of crazy people that just decided to roll the dice and take the odds anyway. That's the only reason why I'm talking to you right now. I will continue to surround myself with great people. They'll make me better at what I do, and hopefully I can make them better at what they do.