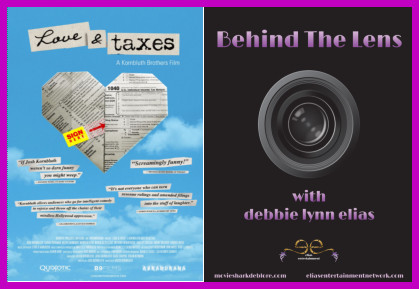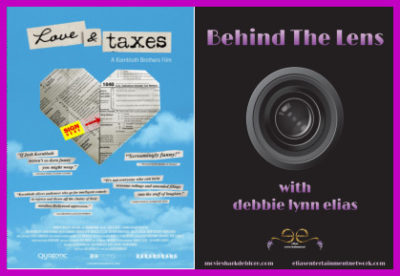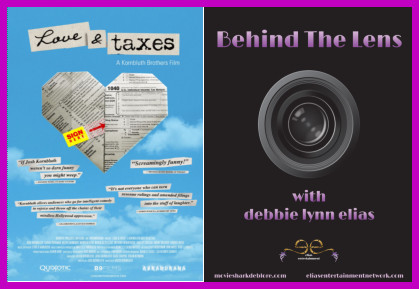 Timely, topical and in the middle of tax season, political upheaval and of course, budding springtime romances, BEHIND THE LENS welcomes brothers Jacob and Josh Kornbluth as they talk about their latest cinematic collaboration – LOVE & TAXES!  Marrying Josh's comedic stylings with Jacob's filmmaking skills, LOVE & TAXES is a definite way to beat the tax time blues.
Joining BTLRadioShow live at the half-hour mark are JOSH KORNBLUTH and JACOB KORNBLUTH talking about LOVE & TAXES.  Fans of stand-up comedy may already know Josh's autobiographical free-form comedy send-ups about life while film fans, especially those who relish documentaries, have undoubtedly seen Jacob's acclaimed doc INEQUALITY FOR ALL. Calling on the disciplines and talents of each brother and each medium, the result is the hilarious LOVE & TAXES.  Filmmakers, siblings and taxpayers alike will find something interesting in their discussion – from Josh's comedic inspiration to Jacob's filmmaking process, the collaborative nature of this eight year venture, editing and designing the film's construct as it interweaves Josh's stage performance with dramatized scenes, challenges of finding and  maintaining both emotional and comedic beats, the timeliness of the film when viewed in light of today's political climate and, of course, brotherly love when working together.  Fun and fascinating, you'll enjoy hearing what the brothers have to say.
But before we get to Jacob and Josh, take a listen to excerpts of film critic debbie elias' exclusive interview with Executive Producers TERRI MINKSY and MICHELLE MANNING as they talk about their new Disney Channel series, ANDI MACK.   Series creator Minsky is perhaps best known as creator/producer/writer of the hit show "Lizzie McGuire" while Manning is the force behind iconic films like "The Breakfast Club" and "16 Candles".  Listen as they talk about combining forces for a 21st-century meld of their gifts.  And we go back to DON'T KILL IT to hear what DOLPH LUNDGREN has to say about not only becoming a demon hunter, but his experience and growth as he shifts his career into more character-driven work over action.