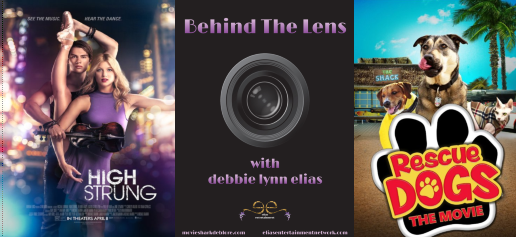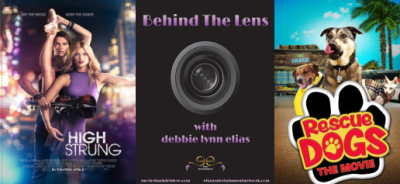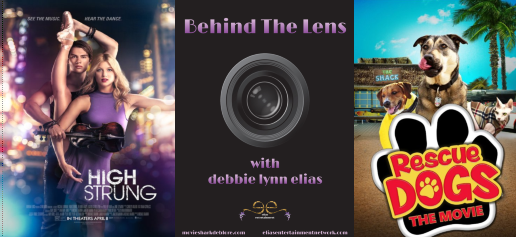 BEHIND THE LENS guests just keep getting better and better and this week the proof is in the pudding as film critic debbie elias welcomes special guests writer/director/producer Michael Damian talking his latest film, HIGH STRUNG, and actress/producer Courtney Daniels is on hand with RESCUE DOGS.
Many of you remember Michael Damian for his starring turn as Danny Ramalotti on the long running soap opera "The Young and the Restless" or, for his string on #1 hits on the pop/rock charts. But what you may not know is Michael is also a successful writer/director and producer. Working with Michael as co-writer/co-producer is his wife Janeen and together they have combined their talents and pieces of their own life's journeys for one of the most beautiful and emotionally fulfilling sensory experiences of the year with HIGH STRUNG. Dance and music come together in a poetic explosion of beauty under Michael's guiding eye and he joins me at the 12 minute mark of the show live from the TCL Chinese Theatre where he's readying for tomorrow's world premiere. You can hear the excitement in his voice as he talks about the challenges of lighting and camera choreography and the joy of serendipitous moments in shooting, not to mention his reaction to a very special alignment of the stars in connection with the film's release date of April 8th!
At the 30 minute mark, we literally go to the dogs with actress and producer Courtney Daniels and her latest venture RESCUE DOGS. Just speaking with Courtney, you can hear the elation in her voice as she talks about working with some wonderful animals in this wholly entertaining family film. As a founder of Busted Buggy Entertainment, and its new distribution arm, Courtney also dons her producer's hat talking about producing challenges and considerations when working with animals. Plus, she fills us in on a very unique and heartfelt distribution campaign for the film unfolding across America starting April 1st. Filmmakers will find what Courtney has to say of particular interest while animal lovers and moviegoers will sit back and go "awwwww"!
And we've got another exclusive clip for you with director Patricia Riggen talking about MIRACLES FROM HEAVEN.