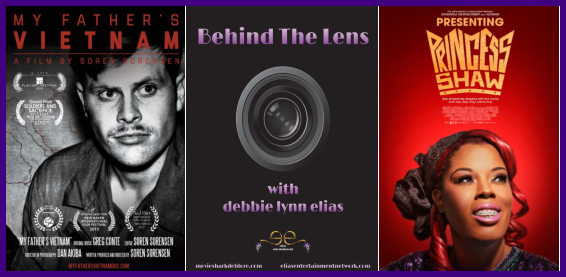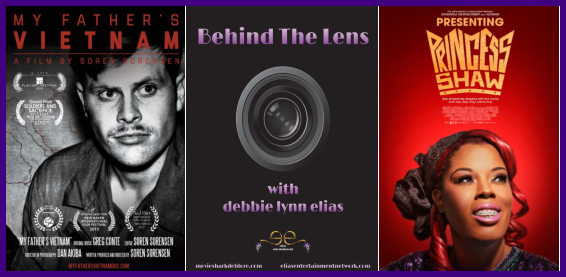 It's the day of the documentary filmmaker on BEHIND THE LENS this week as we welcome special guests Soren Peter Sorensen and Ido Haar.
First up is director/editor/cinematographer SOREN PETER SORENSEN talking up his timely and compelling film, MY FATHER'S VIETNAM. With Memorial Day around the corner, this personal insight into a chapter of American history that fractured the country and dismissed the needs of soldiers, shines a poignant light on Soren's journey to not only document and personalize chapters of American history through the lives of three American soldiers, but to understand his own father better.    A first film for Soren, listen as he talks about his learning curve and approaching the making of MY FATHER'S VIETNAM.
At the 45 minute mark, Israeli filmmaker IDO HAAR is live talking about his latest documentary, PRESENTING PRINCESS SHAW.  A fascinating underlying story about a "wannabe" singer, Samantha Montgomery aka Princess Shaw, and Israeli musician and video maestro Kutiman who, unbeknownst to the subjects, mashes up videos from the world to create new musical works, Ido crosses the globe and genres  as he explores and exciting creative and collaborate melding of the arts.
Hear excerpts of film critic debbie elias' exclusive interview with LUKE WALKER as he talks about his new documentary AUSTRALIA'S LOST GOLD.  Be it truth, legend, myth or a little bit of everything, Walker has been obsessed with the story of Aussie Harold Lasseter who died in 1931 having never revealed the location of a seven-mile vein of gold he allegedly found deep in Central Australia.  Numerous expeditions have tried and failed to find the gold, but 80 years later,  it has never been found, prompting rumors about Lasseter and "the truth" too numerous to count.  Never doubtting in his father, Lasseter's son Bob has continued the search and his invitiation to Luke Walker to join him is the jumping off point for this unfolding mystery as Luke then takes the audience along on his own journey of discovery as he taps into that little but of Indiana Jones, Nancy Drew, the Hardy Boys and Temperance Brennan that lurks within each of us.
Plus, hear a little bit from Mike Epps as he talks about working with an ensemble cast.  And don't be late to get some insight from director James Bobin and producer Suzanne Todd as they talk about melding the Carrollian, Burtonian and now Bobinian worlds for Disney's new timeless classic, ALICE THROUGH THE LOOKING GLASS!