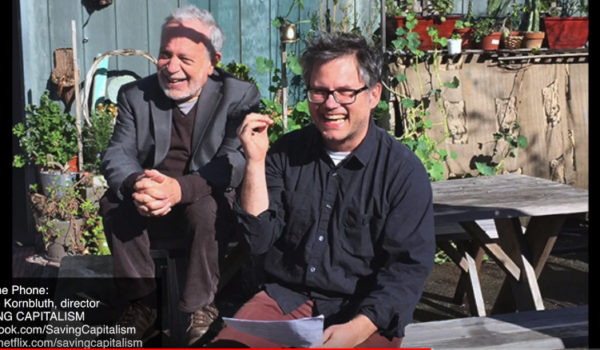 Featuring special guest: JACOB KORNBLUTH. Exclusive interviews with CARTER BURWELL, and the team from COCO – LEE UNKRICH, DARLA ANDERSON and ADRIAN MOLINA.
Timely, topical, and fascinating on multiple levels is the only way to describe this episode of BEHIND THE LENS with a nice mix for all thanks to special guest JACOB KORNBLUTH and some exclusive interviews with award-worthy filmmakers of COCO and composer CARTER BURWELL!
No stranger to BTL, director JACOB KORNBLUTH is back talking about his latest documentary, SAVING CAPITALISM, based on the best-seller by former U.S. Labor Secretary Robert Reich. Kornbluth and Reich first teamed up some years ago for the acclaimed INEQUALITY FOR ALL and have since gone on to not only collaborate on some 40 short videos which have gone viral with more than 250 million YouTube views, but also founded the non-profit, INEQUALITY MEDIA. Earlier this year, Jacob joined us with his brother Josh talking about their comedy, LOVE & TAXES. Although a sobering subject, with SAVING CAPITALISM Jacob and Bob give us hope for the future, not to mention hope for filmmakers as Jacob discusses the journey to bring this book to the screen, the total shift in the political climate while in production, losing and then regaining focus, and more, as we dig into this rich collaboration between Reich and Kornbluth.
Before Jacob joins us at the midpoint of the show, we're talking more COCO and specifically, the task of skeleton design. For those of you who saw the film this weekend, you'll appreciate hearing what director Lee Unkrich, producer Darla Anderson, and writer/co-director Adrian Molina have to say on the subject.
And take a listen to our exclusive interview with composer CARTER BURWELL. Riding high with a trifecta of WONDERSTRUCK (Wonderstruck Movie), GOODBYE CHRISTOPHER ROBIN, and THREE BILLBOARDS OUTSIDE EBBING MISSOURI (all award-worthy contenders), we discuss all three films from composition to instrumentation and emotionality.
LIKE and FOLLOW  us on FACEBOOK: 
FOLLOW us on TWITTER: