A classically styled drama from writer Sabrina Gennarino and director Pieter Gaspersz, AFTER is thoughtfully absorbing and beautifully acted, focusing not only on the dynamics of "family" but the ties that bind and the lengths family goes for one and another.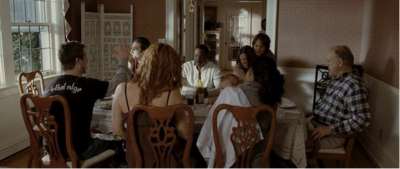 The Valentinos are your average middle class family.  Patriarch Mitch has owned a stone-cutting business for decades.  It has provided a comfortable life for his family.  Spending more time at home with his emotionally fragile wife Nora, Mitch has turned the company over to eldest son Christian to run.  What Mitch doesn't know is that business is floundering and deep in debt on the brink of bankruptcy and Christian doesn't know how to tell him.   Although obviously suffering from some sort of deep-seeded torment when she bursts into hysterics after stepping on a flower while gardening, Nora is upbeat, happy, loving all of her children and her one grandchild.  On the surface she is the perfect wife, mother and homemaker.  Youngest son Nicky is the black sheep of the family, always finding himself in trouble with the law or with a DUI and with no direction for his life. Ironically, eldest daughter Maxine owns a bar and employs the alcoholic Kat.  Maxine is also on tenterhooks awaiting a marriage proposal from her longtime boyfriend of whom Mitch is not that fond.  Sam, a wannabe actress, communicates by sending video messages home to mom via VHS tapes.
As daily life unfolds for the Valentinos, the ties that bind become more important as family secrets burst forth and as is what typically happens within most families, siblings allegiances and alliances are shaped as each rallies for the other in times of trouble.  But there is one secret that is fractures the family as much as it is the glue that holds them together.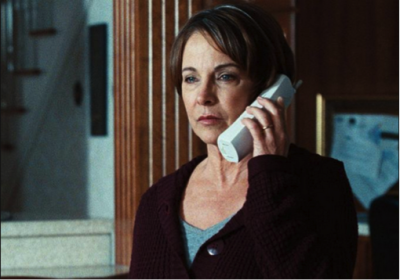 When it comes to performances, well, let's just say it.  Kathleen Quinlan is perfection.  The "baggage" of Quinlan's own career bodes well for her portrayal of Nora and she brings that experience and wisdom that comes with age into this matriarchal role.  I will see John Doman in anything and here is no different.  He plays Mitch with great ambiguity yet always gives the sense that "dad rules the roost" and "what dad says goes".  It's a generational trait we are losing today.  Welcoming to see it here.   As Christian, Pablo Schreiber is grounded and solid, infusing the idea of "duty" and being everything that dad expects him to be while Adam Scarimbolo is perfection as younger brother Nicky, always feeling less than perfect, less than wanted and who has a fuse that's ready to explode at any given moment.   Scarimbolo has an intensity that makes him a man to watch.   I had to do a double take with Sabrina Gennarino as at first I thought I was looking at a younger Suzie Plakson!   And Gennarino's persona and mannerisms even more than hint at Plakson.  But leave it to the screenwriter to write herself a wonderful full-bodied character like Maxine.  Rounding out the picture is Diane Neal who embraces the role of Kat with an estranged authenticity.  Veteran actor Bruno Gunn adds some great depth and tacit strength to the cast as family friend Elliott.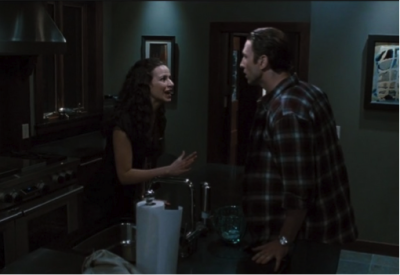 A passion project close to the heart of screenwriter Sabrina Gennarino, many may figure out by mid-point of the film what the Valentino secret is, however, the climactic reveal strikes hard into the very soul of not only a main character but within you as an audience member.  Without divulging spoilers, I can say that the subject matter raises questions for discussion not only about medical issues which come into play, but also the lengths family and friends will go to keep those issues secret and create a world of "let's pretend" for the afflicted.  Would a family do that?  Medically and psychologically should they do that?   Medically and psychologically would anyone do that?  I do like, however, that although sometimes feeling cliched (as families can be) Gennarino created red herrings and plausible scenarios within the course of the daily life of the family, individually and as a whole, providing various explanations for the big family secret, adding more gravitas and impact when the big reveal finally does come.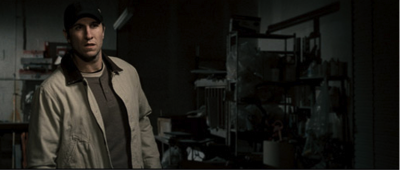 With those reservations in mind, however, the construct of the story, the individual characters and the family dynamic as a whole, hits the nail on the head  – especially when we know there's some sort of secret or event that some family members may know or not know which impacts everyone's behavior around each other.  We've all seen it in our own families.  Performances are textured, believable, palpable.  The moral condemnation among family members is beyond true – all of which here can lead to the "secret" that seems to be hidden.   Does it have to do with alcohol?  Less than savory business associates?  Stealing from dad?  Bankrupting the family business?  An inter-racial relationship?  A daughter-in-law who hates her husband's family and the time he spends with them?  AFTER captures life in its rawest and truest form.
Still sticking with me is a repetitive line of dialogue that is key to Mitch's character – "I want my daughter to be safe".  I understand why Gennarino used the word "safe" in the script, yet when Mitch extrapolates on the phrase, he talks money, home.  You don't think of money when you think of the word "safe".   It posits thought long after the curtain falls.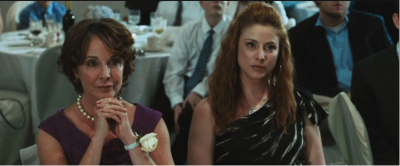 Shot on Panavision, director Pieter Gaspersz and cinematographer Jonathan Hall give the film a visual texture through light moreso than camera angles.  Shrouding the bulk of the film in shadow and a neo-noir tinge while keeping the Valentino home and scenes with Quinlan's Nora light, bright and airy, the result is an interesting metaphoric facade that serves the story well.  Lensing Nora's breakdown realization in a narrow laundry room hallway amidst piles of laundry (sorting the lights from the darks – another glorious detail by director Gaspersz) encapsulates not only the metaphoric washing away of the surface dirt, but the escalating claustrophobic stranglehold of the secret which she is now forced to face.
Production design embraces a wet and wintery upstate New York circa 2002 while providing some key details when necessary; e.g., putting family friend Elliot in a brick walled and paneled apartment as it tacitly gives Elliot a strength on which Kat can lean.  The whole idea of the family business being stone masonry is a metaphor unto itself as we see the stone crumble but then come together.
The final touch is Jeff Beal's score – quiet, respectful elegance.
Filled with metaphor.  Filled with emotionally textured performances.   AFTER stays with you long after the credits roll.
Directed by Pieter Gaspersz
Written by Sabrina Gennarino
Cast:     Kathleen Quinlan, John Doman, Pablo Schreiber, Sabrina Gennarino, Adam Scarimbolo, Diane Neal, Bruno Gunn