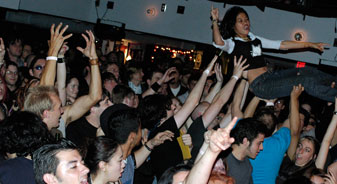 By: debbie lynn elias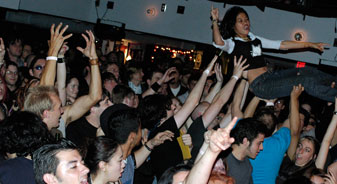 One of my favorite films at the 15th annual Dances With Films Film Festival at the Chinese 6 in Hollywood this week is in the documentary category.
IN HEAVEN THERE IS NO BEER celebrates this generation's unique music movement known as the "Kiss or Kill" phenomena. Celebrating the true indie music movement in Los Angeles of the early 21st Century, although at its height some 60+ bands were part of the movement, IN HEAVEN THERE IS NO BEER showcases groups like Bang Sugar Bang, Silver Needle, The Randies, The Letter Openers, The Dollyrots, King Cheetah and The OAOTs. Similar in format and content to recent documentaries showcasing the 70's at CBGB in NYC and the birth of bands like Blondie, Patti Smith and the Ramones, IN HEAVEN THERE IS NO BEER is one of the first docs that captures that rock 'n roll essence of creation and freedom for the 21st century 20-somethings.
Written and directed by Dave Palamaro, key to this doc is its superb editing and eclectic cinematography. With a stunning mix of grainy, poor quality, indie feel, subversive type footage blended with the high gloss of digital and both formal and informal interview settings, one is hypnotically reeled into the era and the music. Historical information covering the "Kiss or Kill" era from 2002-2007 is well documented and presented.
A definite touchstone for hipster indie film-goers, Palamaro makes this retrospective a Dances With Films MUST SEE FESTIVAL FILM.