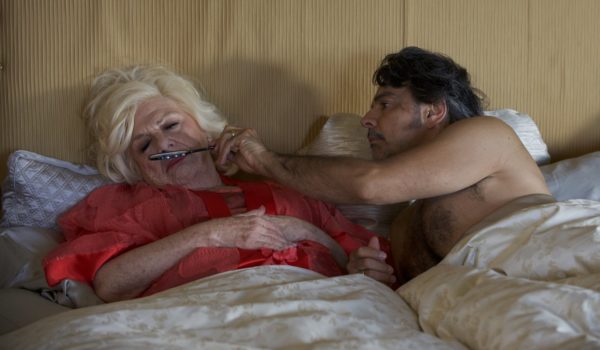 For those still unfamiliar with Latin sensation Eugenio Derbez, get ready, because you are about to fall in love with the comedy stylings of this Latin Lover in HOW TO BE A LATIN LOVER. Thanks to his comedic skills, Derbez has been a superstar in Mexican television for decades. In 2013, Derbez produced, directed and starred in "Instructions Not Included", the highest-grossing Spanish-language film of all-time in the U.S. giving film distributors and financiers pause to sit up and take notice of the multi-talented Derbez and his crossover-appeal. Add to that his transition into mainstream English-speaking films over the past decade or so which not only showed English-speaking audiences his patented brand of comedy, but also his depth for the dramatic as in "Miracles From Heaven." Finally feeling ready to take the big leap and star in a "Hollywood" comedy, as producer and star, Derbez makes the giant leap across the border with HOW TO BE A LATIN LOVER. Directed by Ken Marino and with a star-studded cast, the result is, in a word, HILARIOUS!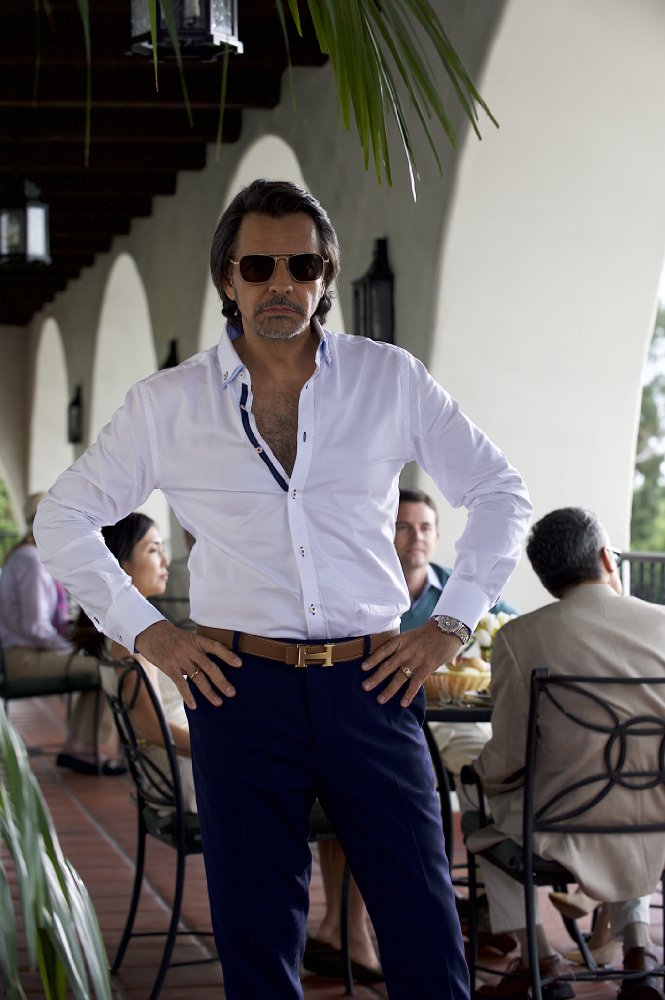 As a little boy in Mexico, Maximo had dreams; dreams of having a big house, lots of cars, lots of money, and being adored by lots of women. His sister Sara had similar dreams; dreams of becoming an architect and designing a wonderful house for her family. While Sara's dreams were built upon hard work, Maximo's were not. His were built upon one idea; to become a gigolo. Mesmerized by magazine photos of the rich and famous with the rather homely looking balding older rich man with the young trophy wife, Maximo knew he wanted to have that same life, only for him it was to be a young trophy husband to some rich old biddies and widows. And that's exactly what he gets.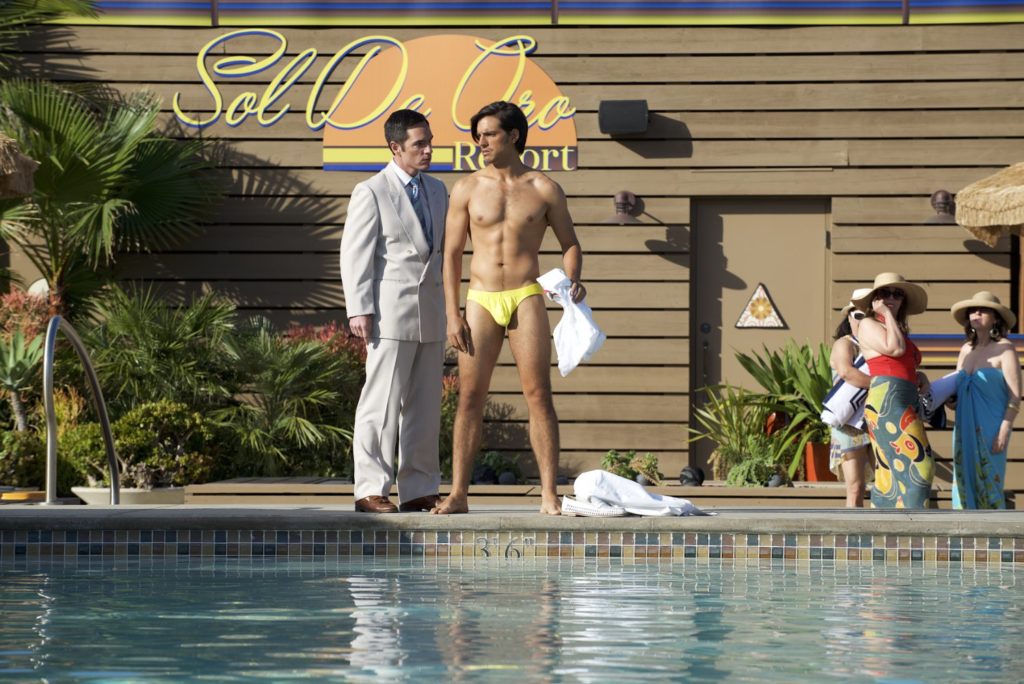 Fast forward to a 26 or 27-year old Maximo working poolside at a country club. Tanned and fit, every woman in the place wants him, but he has his eyes set on the prize, an older woman named Peggy whose first husband left her millions. Jump ahead to the present and we find a now 50+ year old Maximo living the dream in an opulent golden mansion. Obviously once sweeping the now 80-year old Peggy off her feet, they are celebrating their 25th wedding anniversary. With more luxury cars at his disposal than he can count, private helicopter, tailor-made clothing, and of course, an electric scooter to take him throughout the mansion so his feet never need touch the floor, he is living the dream. He has also picked up more than a few gray flecks in his hair and his once six-pack abs have become closer to Santa's bowlful of jelly. And unfortunately for Maximo, this wedded bliss is about to come to an end and with it, all of his toys and trappings, when Peggy dumps him for a younger car salesman.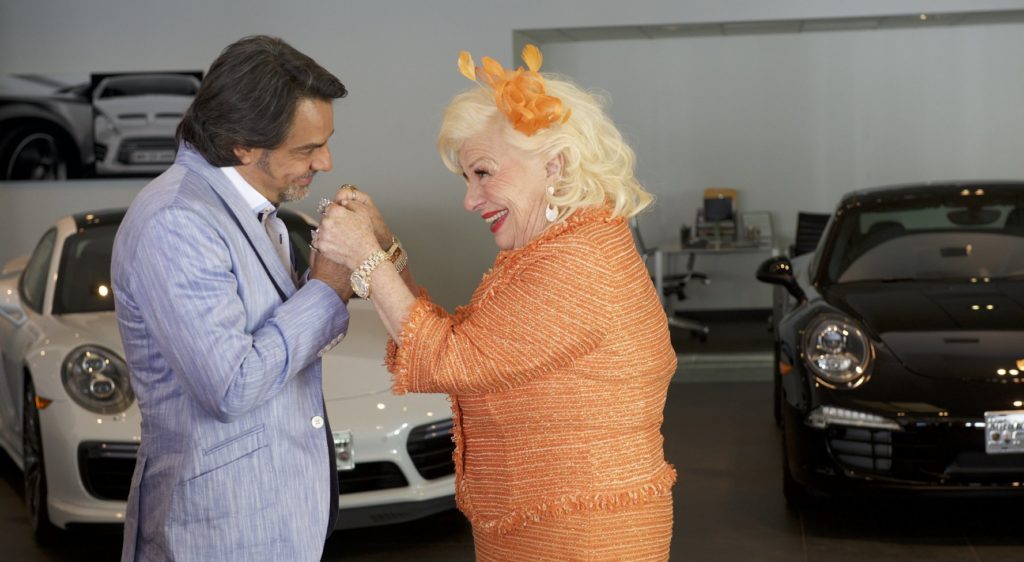 With no money, no car, no game plan, Maximo turns to his best friend Rick, a fellow self-proclaimed gigolo keeping his marriage to the uber-wealthy Millicent going thanks to many hours of bedroom games played in every room of the house. Although Rick lets him stay for the night in the playhouse belonging to Millicent's granddaughter, Maximo is forced to look elsewhere for help. His only recourse is his sister Sara.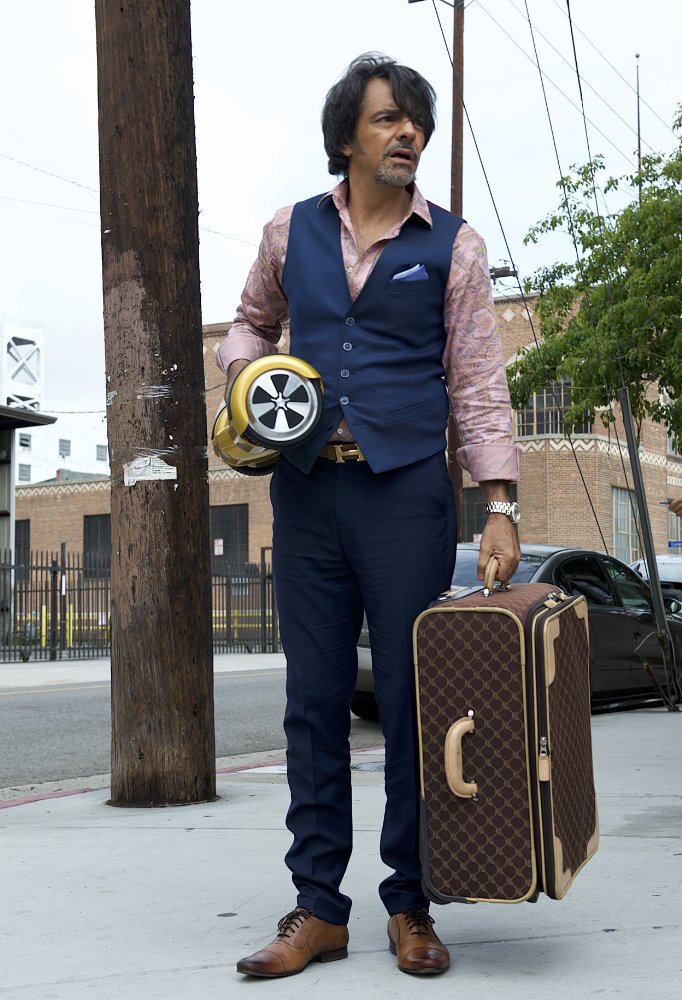 Estranged for years, he barges into Sara's well-patterned life with her young son Hugo. A mother and son duet, the two are like two peas in a pod. Sara has followed her path and although not yet given the chance to design houses, she is working for a big name architectural firm. Her apartment is cozy and comfortable and breathes family love. Being an architect and handy with a tool belt, she is also manager of the apartment complex in which she lives. Hugo is beyond adorable. A bit on the nerdy and cute side, he is a science geek. He's also less than thrilled with his Uncle Maximo who has no sense of structure, no manners and just isn't "family."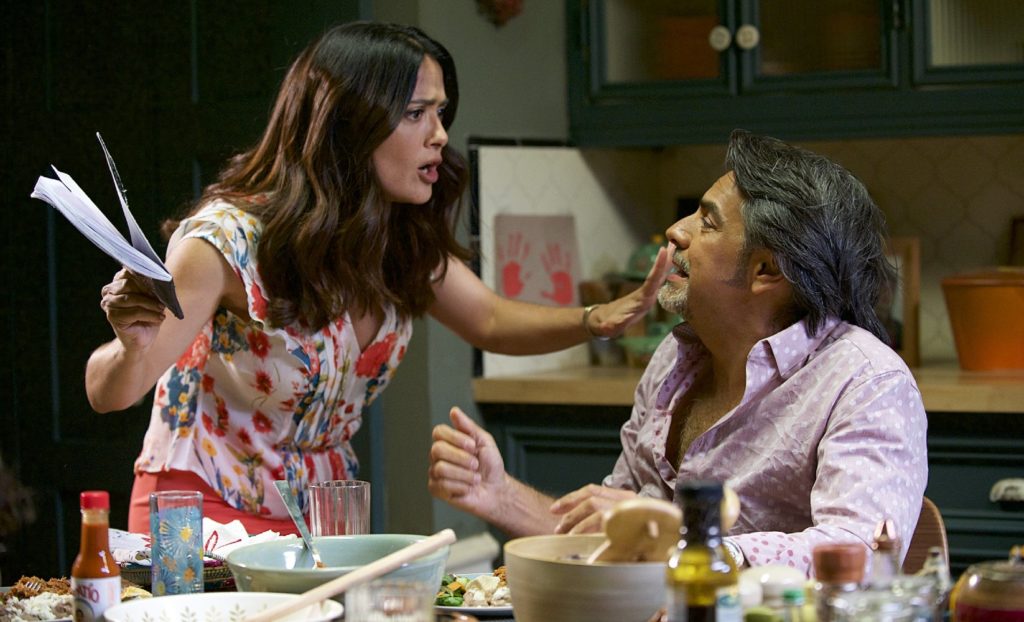 Knowing that living with Sara is only a stopover for him, Maximo hatches a plan to regain his "Latin Lover" status and catch himself another rich widow so he can return to living in the lap of luxury. But with his slightly deteriorated looks and being off his game for so many years, Maximo needs to alter his once sure-fire game plan. Setting his sights on the glamorous and widowed Celeste, imagine Maximo's joy in finding out she is the grandmother to Arden, the object of shy Hugo's affections from afar. Using Hugo as his entre to Celeste, Maximo offers to teach Hugo HOW TO BE A LATIN LOVER to win over Arden while he then uses Hugo to garner an invitation to Celeste's estate for Arden's birthday party. But wherever Maximo is concerned, you can be sure nothing goes according to any plan.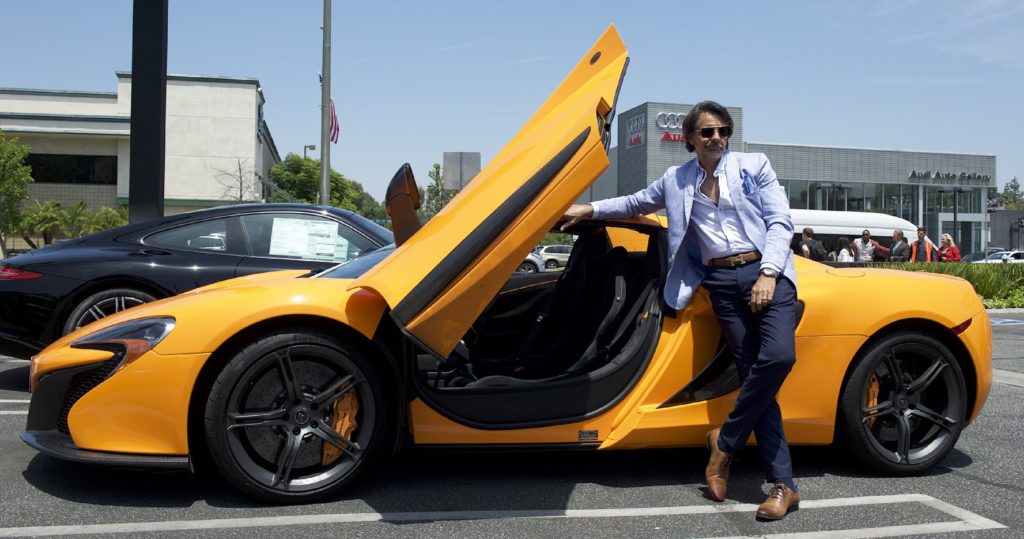 Written by Chris Spain and Jon Zack, HOW TO BE A LATIN LOVER plays to the stereotype of the "Latin Lover" with Derbez exaggerating the persona at every turn, playing the character as if still in his prime and not acknowledging the passage of time. Buttressing that with Rob Lowe stepping in as the still trim, toned and tanned BFF Rick, the physical and personality contrasts create wonderfully inherent comedic sketches. The story premise, on the whole, is both funny and charming, but the real heart of the film comes from the family dynamic of Maximo, Sara and Hugo. There is never a moment that you don't believe Maximo is the annoying older brother and Sara the studious and down to earth sister with Hugo watching both wondering how he can be related to these two. Not only is Maximo's family and each member three-dimensional, but so are the supporting characters and their respective worlds, of which there are many.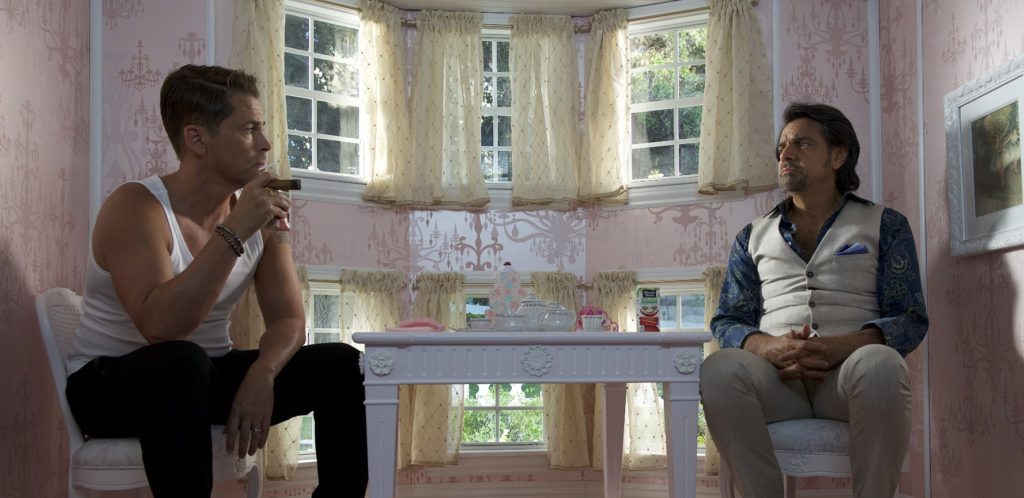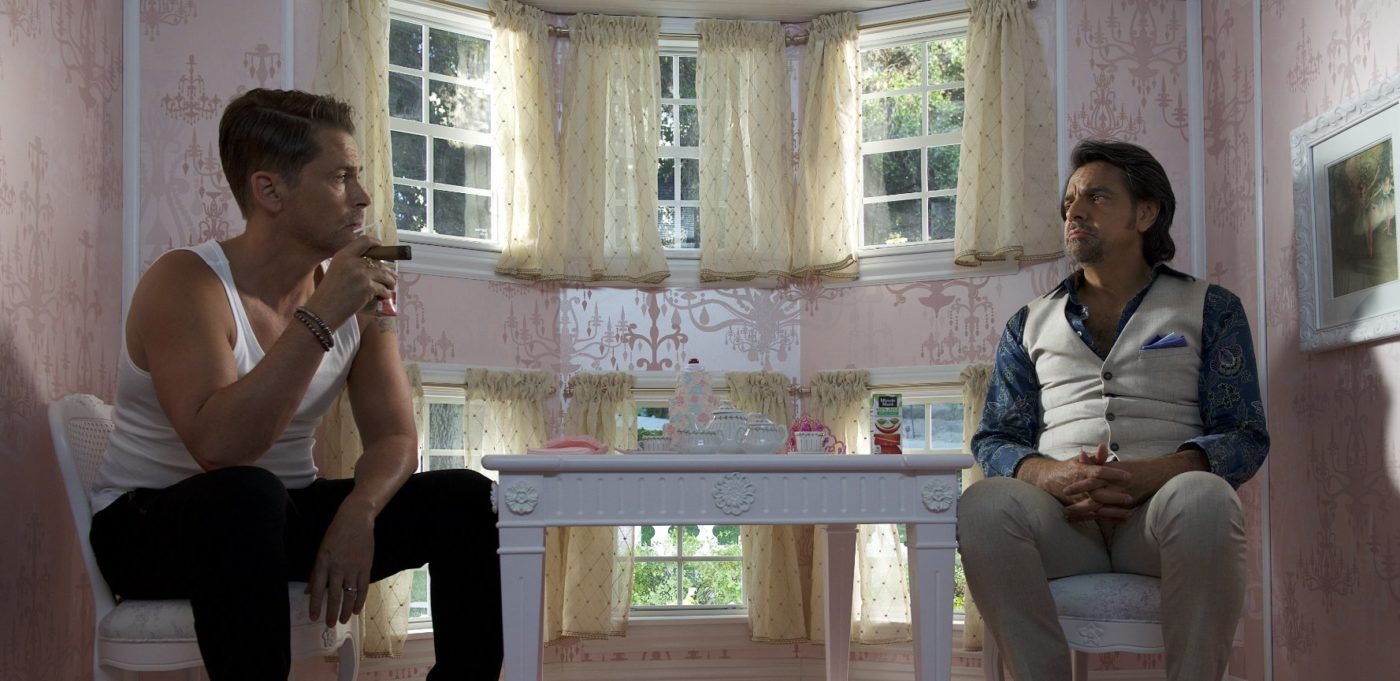 Although fun-filled given Maximo's view of life, the story is approached seriously and not something just off-the-cuff that is pasted together with comedy gags. Every character (but for Lowe's Rick) grows. We see families and friendships form, self-esteem and confidence grow, challenges and disappointments dealt with. And no matter how old you are – 10, 46, er 39, um 42 or 80-something, there's always something to learn and life to be lived. The story is a straightforward but engaging structure.  Notable is that even with this idea of "Latin Lover", because of the comedic approach taken, the film is appropriate for the entire family.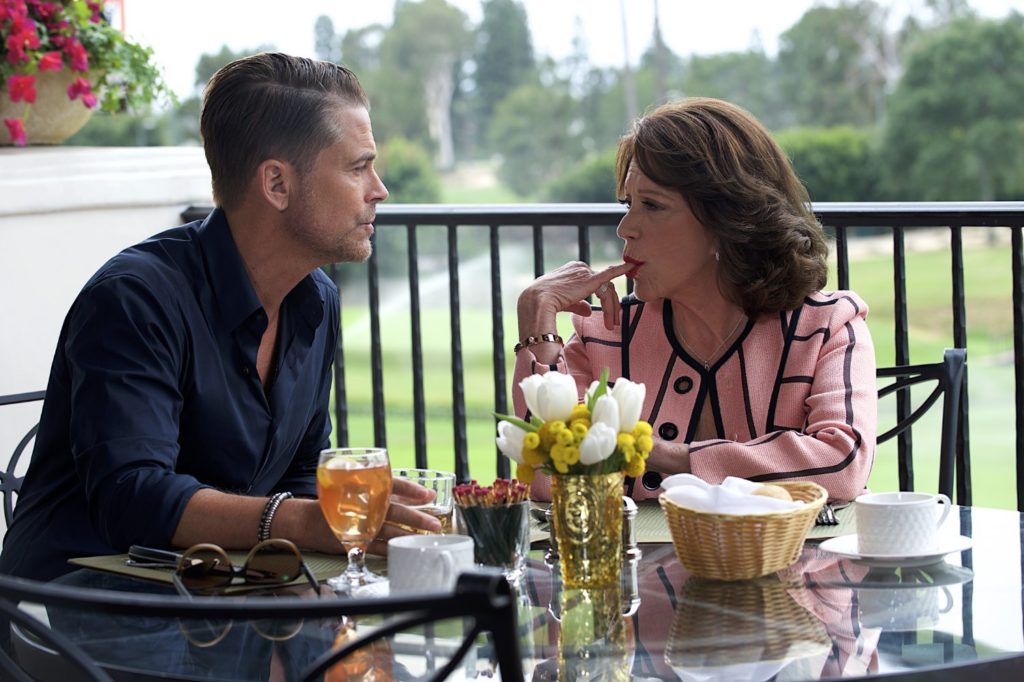 But then there's the casting. It is pure perfection all around! The success of HOW TO BE A LATIN LOVER falls not only to Derbez' Maximo, but on the overall casting, of which Derbez was involved given he is a hands-on producer with his production company 3pas.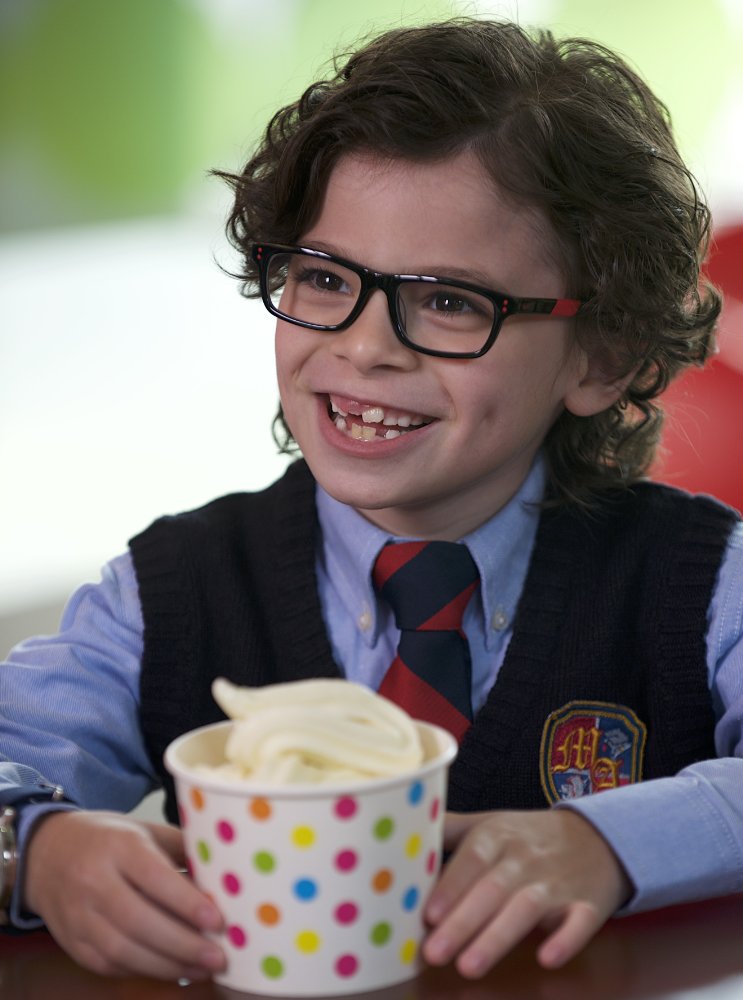 Already familiar with Raphael Alejandro's work thanks to "Once Upon A Time", seeing him up his already high game as Hugo and go toe-to-toe with Derbez is a pure delight. Derbez has the gift of being able to play with childlike spirit while Alejandro can tackle that "40-year old in the body of a 10-year old". They are the perfect yin and yang to one another. But then the daisy chain starts as you put Alejandro with McKenna Grace. For anyone who hasn't seen McKenna Grace before, check out "Gifted". She is a huge talent and a huge scene stealer – and is as equally charming here as she is in "Gifted" opposite Chris Evans. Watching McKenna Grace and Raphael Alejandro together, be it with their pure glee at launching Hugo's weather balloon or straight-faced joking with each other after a birthday party debacle involving Grandma Celeste, is joyously infectious.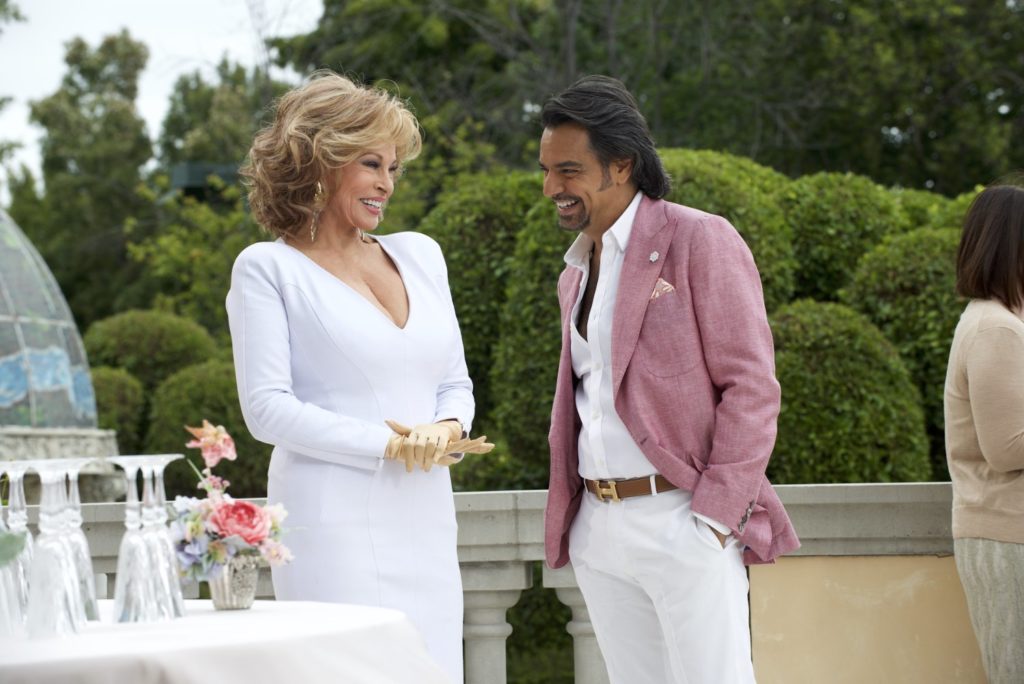 And speaking of Grandma Celeste, Raquel Welch has still got it. She has always had a slick comedic wit, but we haven't really seen her go for the physical jokes and pratfalls. Talk about a total and complete outside the box hysterically funny shock! There are some big reveals with the character (which I will not reveal here) in a particular laugh-out-loud-funny until you pee-in-your-pants scene involving Welch, Derbez and Lowe which are pure slapstick hilarity. Welch's timing is perfect while her delivery and facial expressiveness set up the jokes perfectly.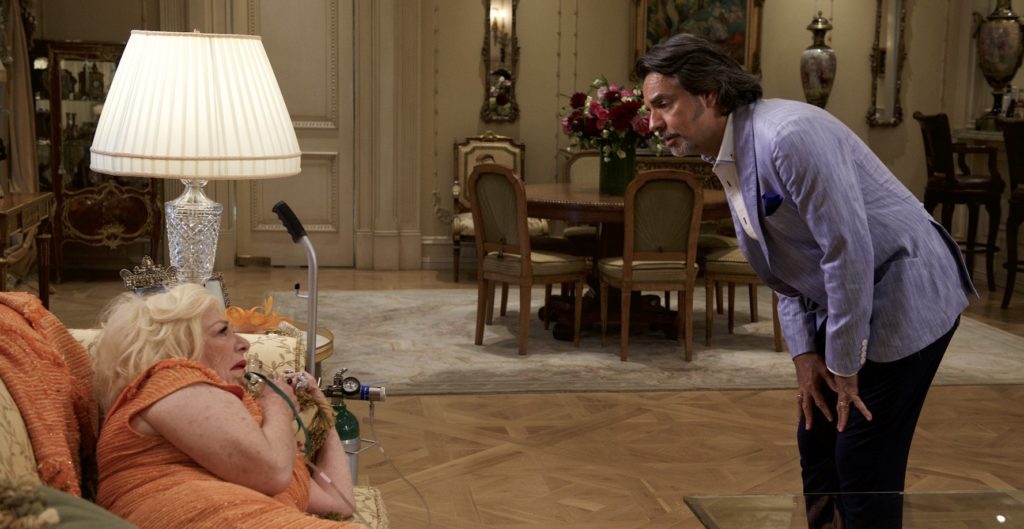 Talking about the physical comedy, it is so refreshing to see Derbez' brand of Jerry Lewis pratfalls and slapstick – and for it to not only have a point but be integral to the personality of the character. The physical comedy is not gratuitous, nor are Maximo's lessons to Hugo on becoming a "Latin Lover." It's just plain funny. For anyone familiar with his Hispanic comedy series (which you can still see on cable), the silliness Derbez brings is fun and well-suited to the character and the situation. Significant is that its comedy that resonates on a multi-cultural and global level.
Having said that, the one running comedic bit that doesn't work involves "the car wrap guys" with Rob Riggle and Rob Huebel. While this plot line serves as a means to end involving Hugo and Maximo, the whole stunt – from wrapping the car to an alley chase to theft to impersonations by Maximo and Rick to a miniature bike gag (the latter expertly played by Derbez) – just doesn't fit with the emotional resonance rest of the film. While entertaining as perhaps a stand-alone short film, those sequences feel disjointed and disconnected within the film as a whole.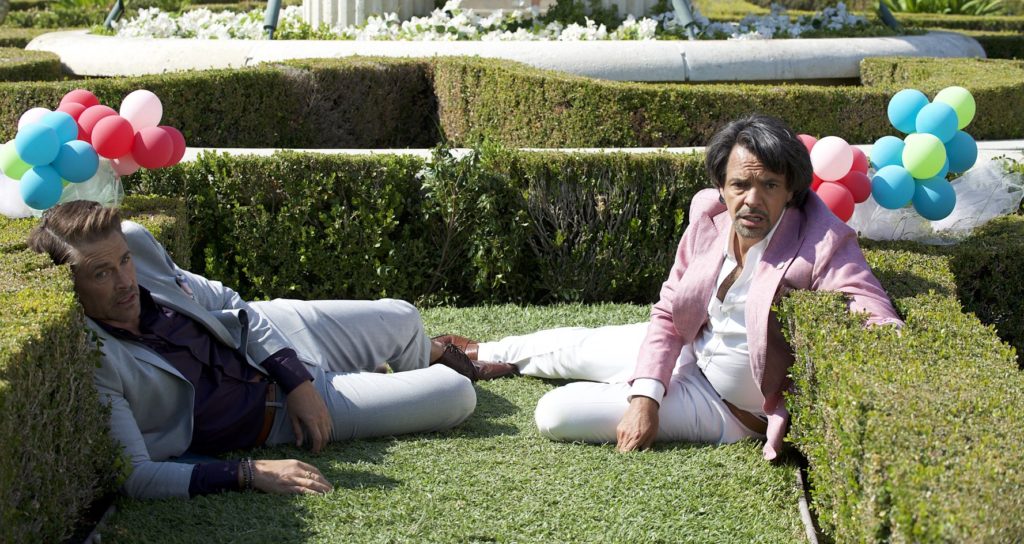 As Rick, Rob Lowe is also at the top of his comedic game, particularly in scenes opposite Linda Lavin who plays Rick's lascivious wife Millicent! Lowe is still a smoother operator, but he plays Rick with just a bit of tongue-in-cheek serving as a perfect edge to Derbez' Maximo. Lavin soars as she infuses Millicent with all the trappings of a Joan Collins "Dynasty" diva. Similarly, Renee Taylor adds a touch of what Peggy would think is little girl cuteness to her character, making for some terrific moments. The "old broads" are awesome. But so is Kristen Bell as one can't help but laugh every time she's on screen. As Cindy, manager of a Froyo Frozen Yogurt shop and mother to 80 or so cats in her home, there is a bouncy wide-eyed nuttiness from Bell that is refreshing while also being wise on the subject of family. Not to be overlooked is an understated yet charming performance by Rob Corddry as Celeste's chauffeur Quincy.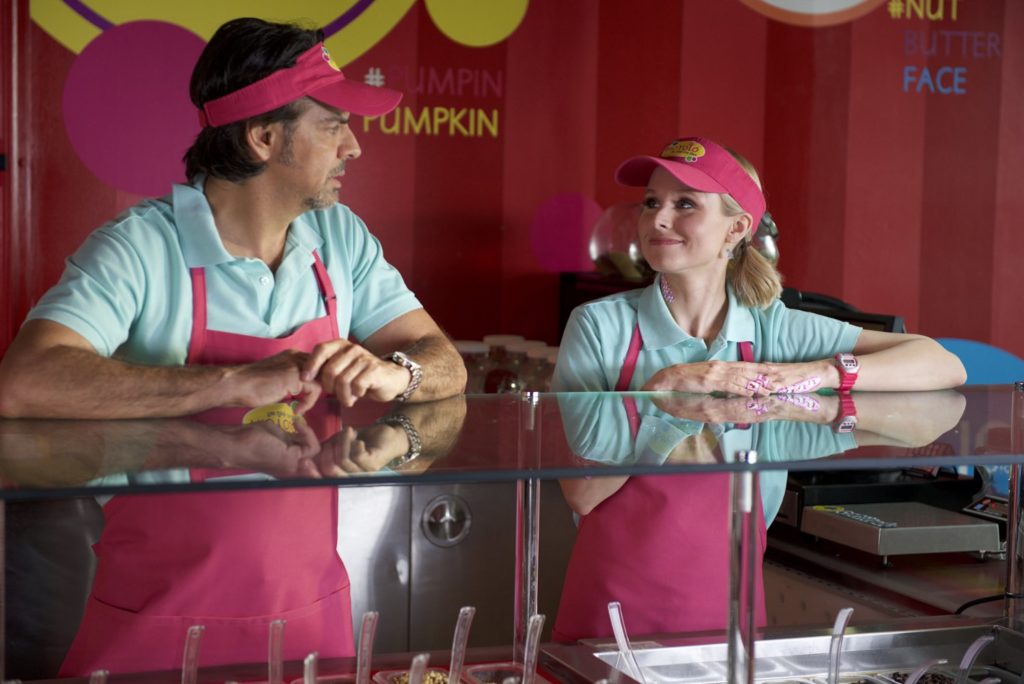 But the real thrill of HOW TO BE A LATIN LOVER comes whenever Salma Hayek and Eugenio Derbez are together. Friends off screen for decades, that friendship carries through with total immersion into a sibling rivalry, so believable and resonant, everyone will understand what family is on watching these two. Entertaining almost to a fault, key to the comedy that plays out between them is that when they are yelling at each, arguing with each other, they lapse into Spanish while for the rest of the film, English is spoken. They are citizens in America and they speak English along with their friends and community, something important to Hayek's character of Sara in raising Hugo. For anyone with a bilingual family or an older generation family member who find it easier to slip into a native language in certain "escalating" situations, the back and forth has an organic flow to it, so much so that the physicality and expressive emotion each brings to the table allows us to know exactly what is going on (although there are subtitles in scenes where Spanish is spoken), particularly when Sara is walloping Maximo upside his head, something which happens quite often.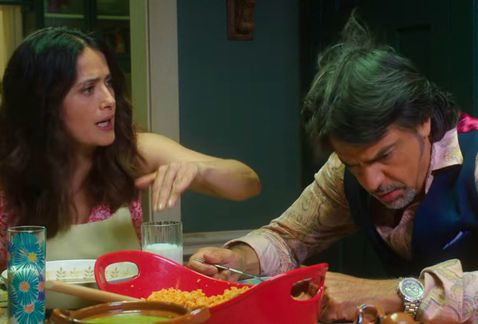 And by the way, who says nepotism doesn't pay.  Just take a look at the 26-year old Maximo. No CGI there. That is none other than Eugenio Derbez' own son Vadhir. Vadhir is the spitting image of his dad and truly embodies the image of a "Latin Lover".
First-time feature director Ken Marino keeps things light tonally and visually, thanks in large part to cinematographer John Bailey. Much as Bailey did with "The Way, Way Back", lighting is light, natural, celebratory of life and fun. But then in more somber moments (typically in Sara's house), lensing is toned down in scope and made warmer through the use of color and the intimacy of the small apartment and personalized set decoration and production design thanks to production designer Marcia Hinds. Key is that Bailey and Marino go wider in the majority of Derbez' scenes in keeping with the larger than life persona of Maximo. However, kudos on their visual design as framing becomes more intimate and moves into close-ups and mid-shots as the relationship between Maximo and Hugo grows. Beautiful metaphoric visual storytelling.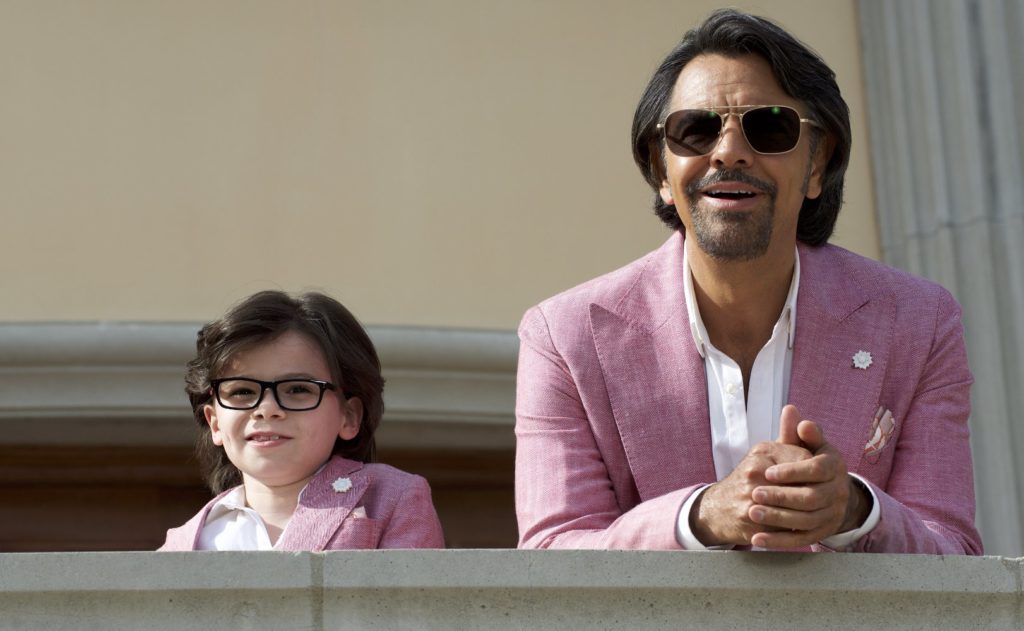 Marino and Bailey also make the most of Los Angeles and shoot in locations that while some are obvious, many are new to movie-goers and show different sides to the life so many think they know so well.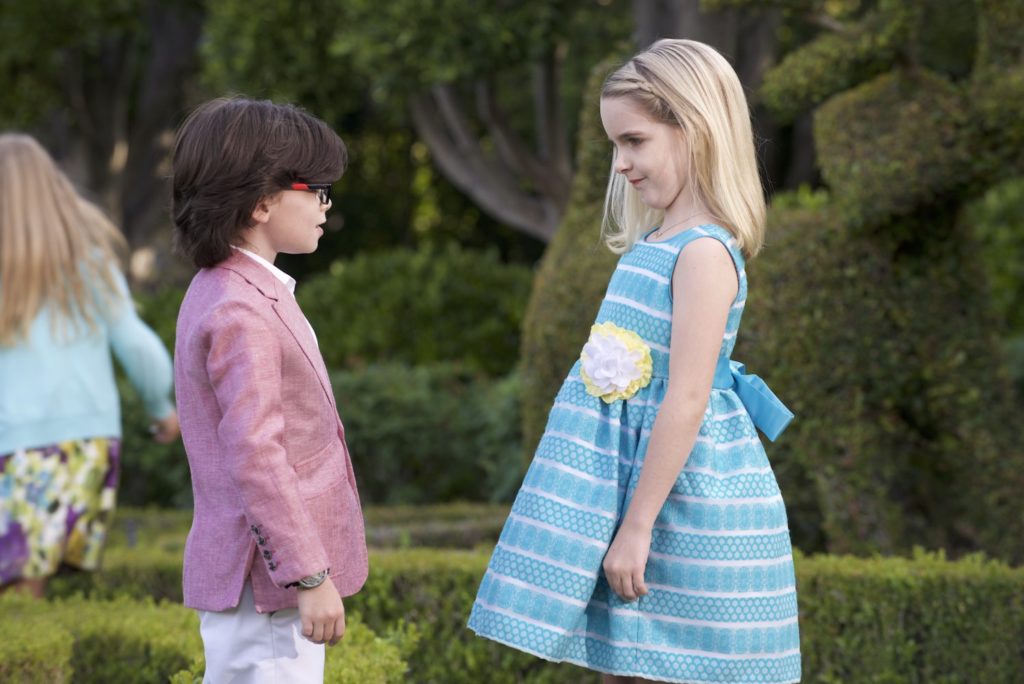 Costume designer Molly Grundman does a top-notch job with Maximo's outfits and corresponding attire for Hugo, but then also adds to the personas of the characters played by Raquel Welch, Linda Lavin and Renee Taylor with very telling attire.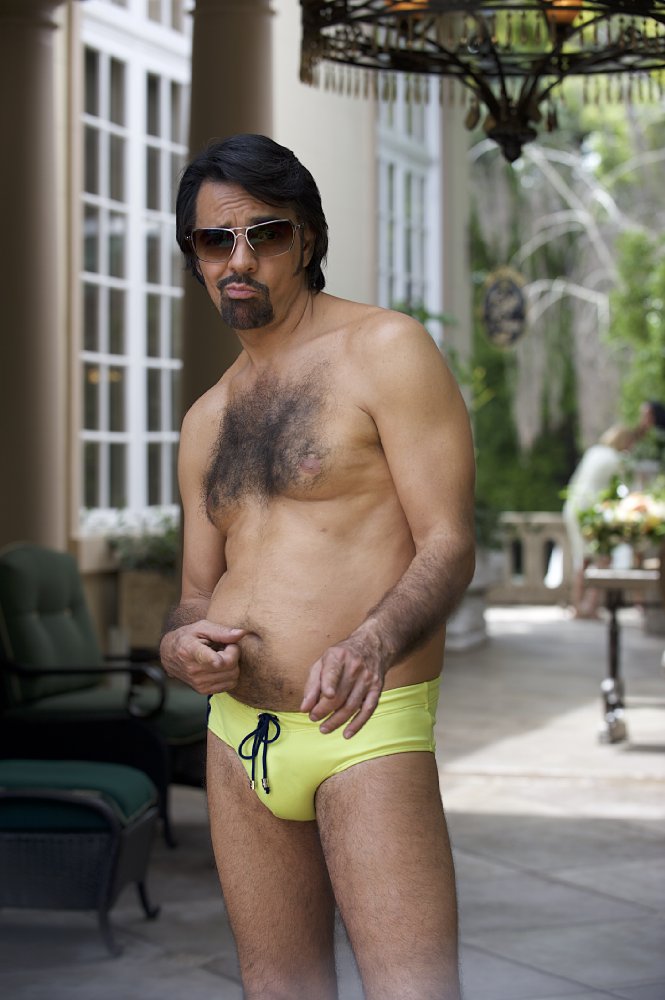 HOW TO BE A LATIN LOVER is absolutely hilarious, standing firmly on its comedy legs but with a story and film as a whole elevated by the warmth and charm of Eugenio Derbez. May this be the first of many more English-speaking films to come with Derbez as the star. You'll fall in love with HOW TO BE A LATIN LOVER!
Directed by Ken Marino
Written by Chris Spain and Jon Zack
Cast: Eugenio Derbez, Salma Hayek, Rob Lowe, Raquel Welch, Raphael Alejandro, Kristen Bell, McKenna Grace, Renee Taylor, Linda Lavin