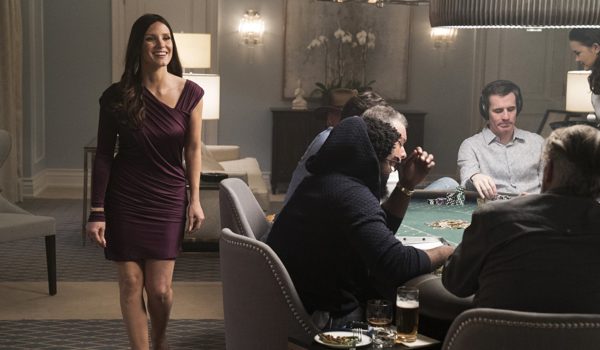 If you've never heard of Molly Bloom or her story, get thee to a theatre now, and get ready for the ride of your life with Aaron Sorkin's feature directorial debut, MOLLY'S GAME. What a riveting – and fun – film! A cinematic royal flush!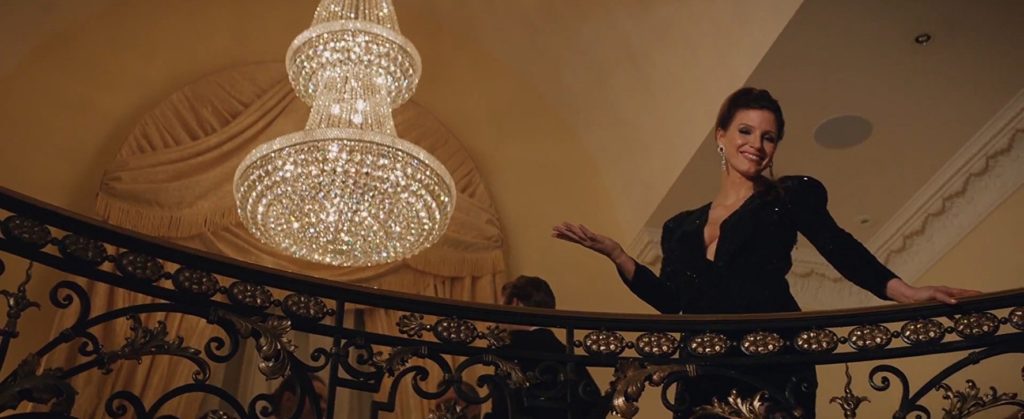 For those unfamiliar with Molly Bloom, a bit of backstory for you. Bloom was at one time the third ranked women's competitive skier in North America with her eye squarely on the Olympics. Her brother was already an Olympic skier and later played in the NFL for the Philadelphia Eagles. Her father, a psychologist and professor. Her mother, a successful ski instructor and business entrepreneur. Bloom's run-ins with the wrong side of the law began in the late 1990's when she was arrested for disorderly conduct, underage drinking, multiple counts of speeding, and driving with expired license plates, among others.
In 2003, Bloom left her home in Colorado and moved to L.A. where she worked as a cocktail waitress. In 2004, one of the co-owners of The Viper Room recruited Bloom to host a high-stakes poker game in the club's basement. As the game grew, it moved to the Four Seasons, The Beverly Hills Hotel, and The Peninsula, with Molly Bloom moving along with it. By 2007, Bloom started her own business hosting poker tournaments, attracting A-list talent to the games. So successful was she, that she moved to NYC, opening the games up to high rolling Wall Street financiers. But the bloom was off the rose by 2011 when one of her LA games was shut down due to an investigation into a Ponzi Scheme involving one of her main players. By 2013, at age 34, Bloom was arrested and charged with money laundering, extortion, fraud and operating illegal poker rooms in New York City, facing at a minimum up to 10 years in prison and a $1.5 million fine. In 2014, Bloom pleaded guilty to a lesser charge and avoided prison. Broke and unemployable, she turned her talents to writing her story with "Molly's Game: The True Story of the 26-Year-Old Woman Behind the Most Exclusive, High-Stakes Underground Poker Game in the World." And now, Aaron Sorkin brings Molly Bloom's story to the big screen with MOLLY's GAME.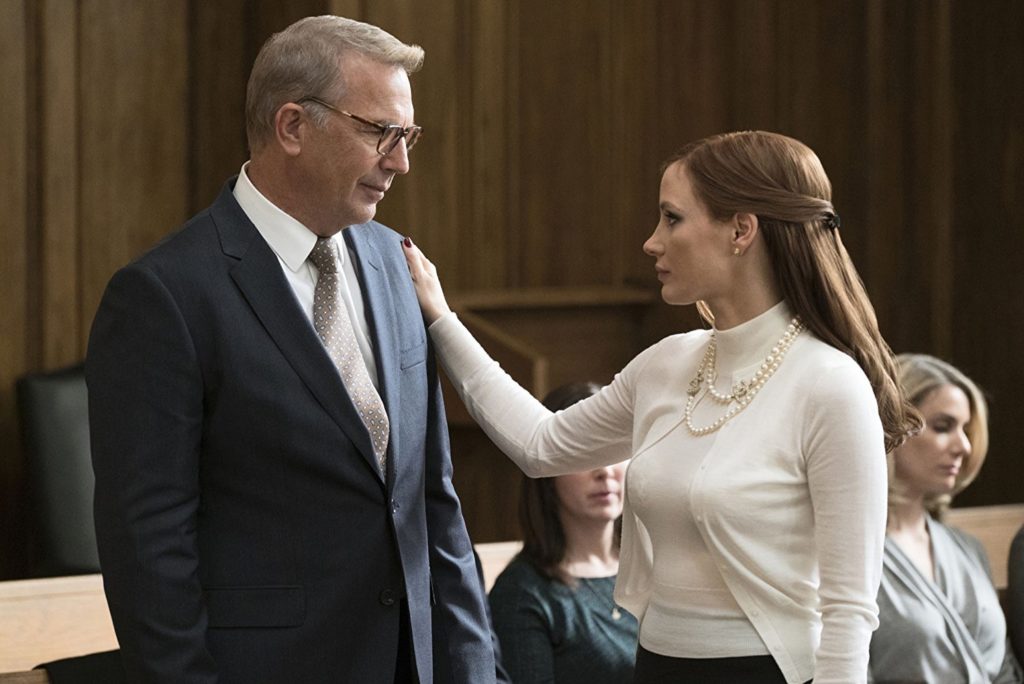 Adapting Bloom's book for the big screen, Sorkin's script is taut and entertaining. His direction is crisp and sharp with a steady even pacing, building tension as we navigate past and present to arrive at the reason for Molly's arrest and the charges against her. Beautiful bookending of the story with her father, expertly played by Kevin Costner, as the man whom was the alleged catalyst for Molly's drive and obsessive need to control men (be it fact or fiction), but also the first one to pick her up at the darkest moments of her life either as a child on skis or as an adult facing prison. Structurally, there is a flow to the design of the film that mirrors that of a high-stakes poker game – casual tautness.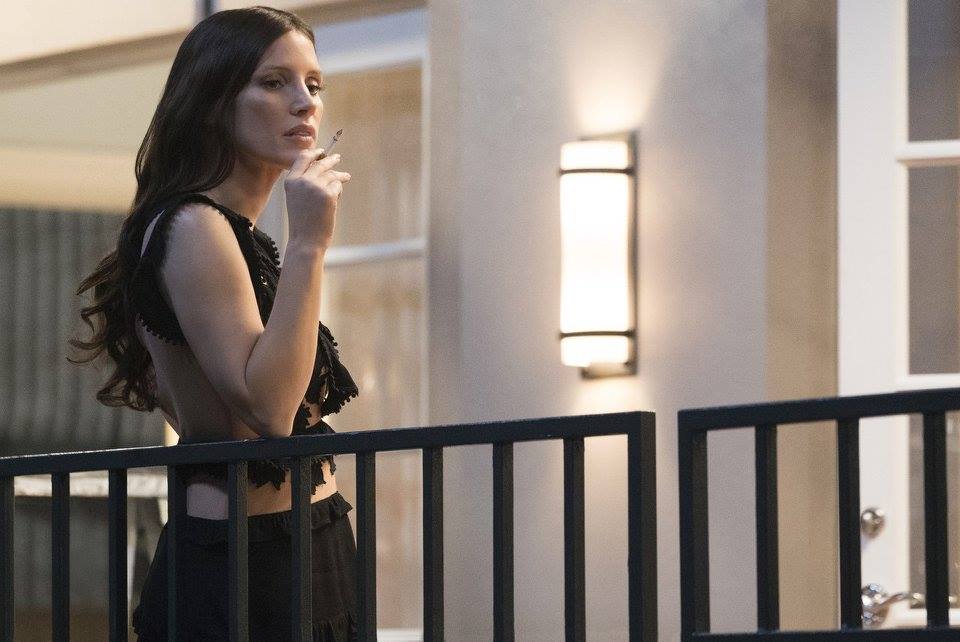 No one but Jessica Chastain could have played Molly Bloom and pulled off not only the dialogue but the rhythmic cadence and condescending authoritative tone and screen presence necessary to make the character and the story work. Her award-worthy performance smacks of the same decisive command she brought to "Miss Sloane" and is beyond reproach.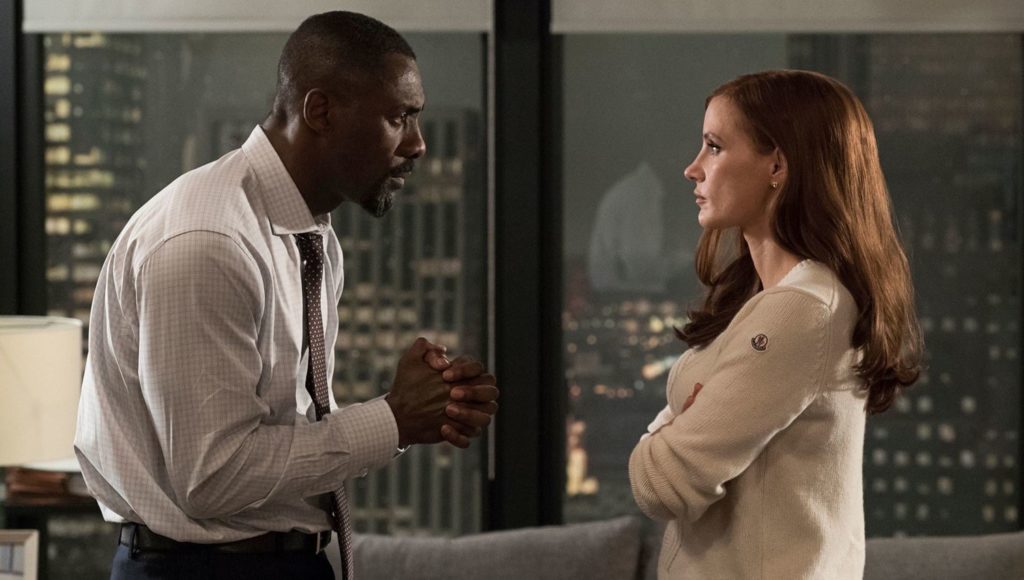 Like Woody Harrelson and composer Carter Burwell, Idris Elba has a trifecta going this year with MOLLY'S GAME, "The Mountain Between Us" and "Thor: Ragnarok". Once again, Elba gives us a completely original take on a character from accent to demeanor to passion. He is dynamite as Bloom's attorney Charlie Jaffey and has a remarkable chemistry with Chastain. His monologue during a settlement meeting with the prosecutors is tour de force. The passion, conviction, and ambiguity tinged belief in Molly that Elba brings to the role will have you on the edge of your seat from the moment he appears on screen.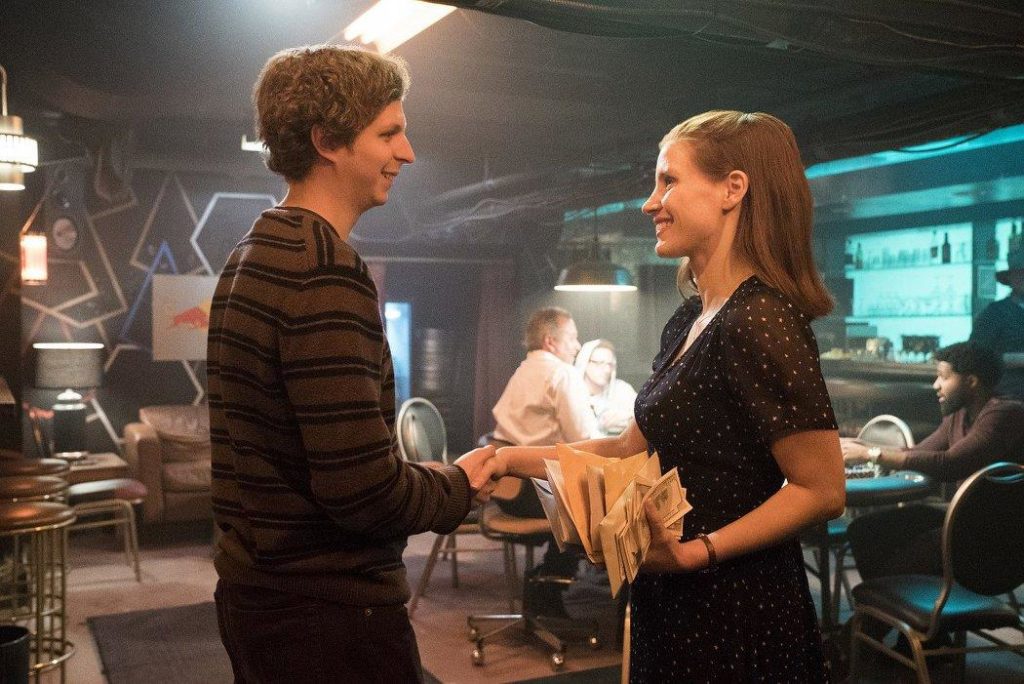 Supporting players like Michael Cera, of whom I am typically not a fan, are perfectly cast, with Cera being the unnamed famous actor who instigates the higher stakes games. Going beyond Cera, one has to look to Bill Camp and Chris O'Dowd, both of whom are fantastic, most notably O'Dowd who has a well-developed arc as the lynchpin in the house of cards built by Molly. Nice turn by veteran Graham Greene as a judge sympathetic to Molly's ultimate fate.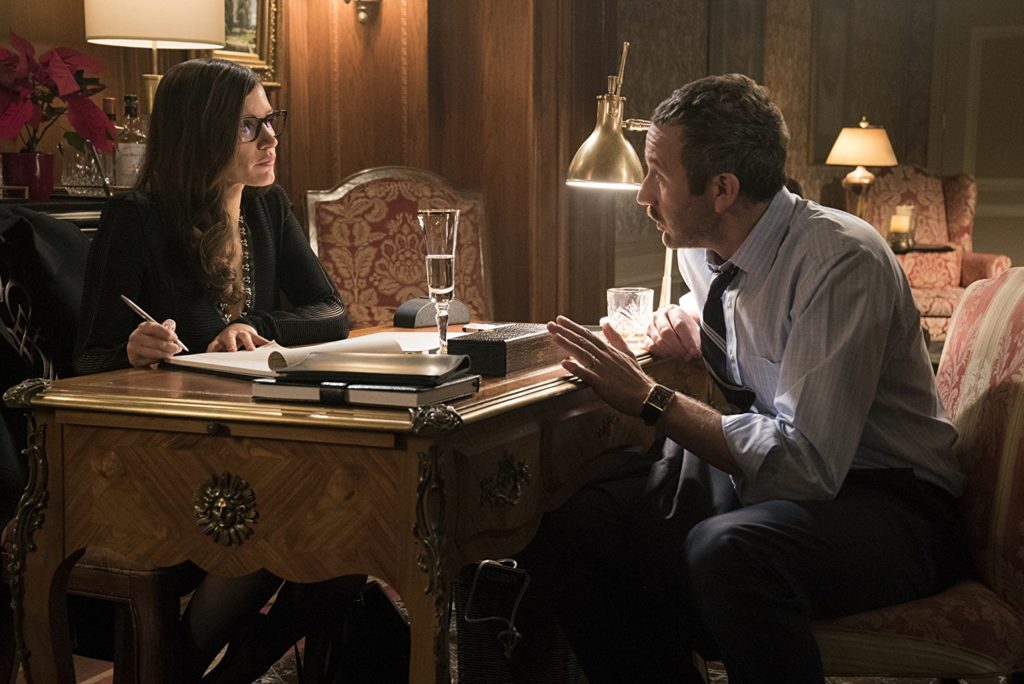 Charlotte Christensen's cinematography in MOLLY'S GAME sizzles as framing and zoom tell as much of the story as the written words. It becomes particularly effective in propelling the story once Charlie agrees to represent Molly. Christensen starts with wide angle and moves into mid-shots and then individual close-ups as the trial becomes imminent, negotiations occur, and the deeper Charlie digs into Molly's real motives and backstory some stellar ECUs fuel the tension and emotion. Lensing of the poker games is exceedingly well done, and in tandem with the film's editing, immerses us not only in the games themselves, but as the stakes get higher, framing intensifies and again, moves into even more intimate framing ratcheting up the nail-biting action.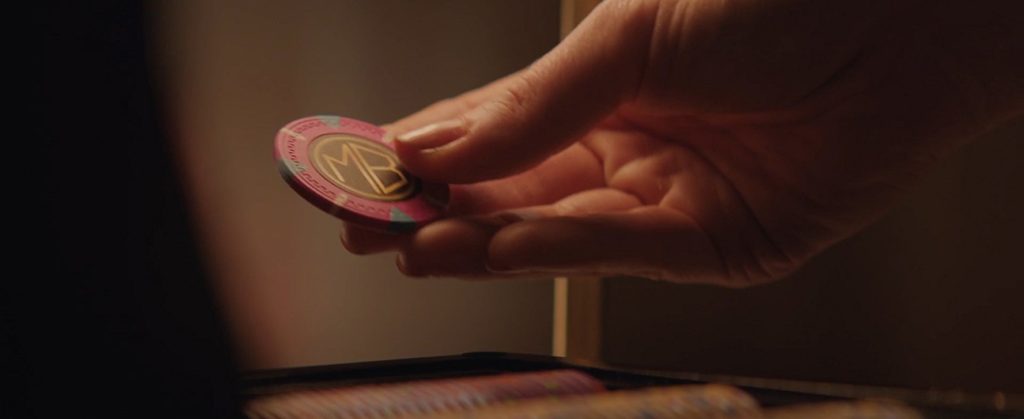 Interesting and effective is that Molly is always kept at a distance and away from the tables themselves, in the background of a shot as opposed to foreground, but for when she's asking for a private moment with a player whom she thinks is in over their head, and even then, she is never in the shot with the actual hands being played. That metaphoric distance supports Molly's repeated cries of innocence as her world crashes down around her.
Lighting fuels the moods of the various games and proves to be reflective of the stakes and the players, which is aided by David Wasco's production design and, of course, Molly's wardrobe and personally escalating monetary status. Similarly, Molly's own NY apartment is stark and white with bright light metaphorically speaking to the harshness of what her life has become, unable to hide any longer and perhaps a prescient nod to what's about to unfold.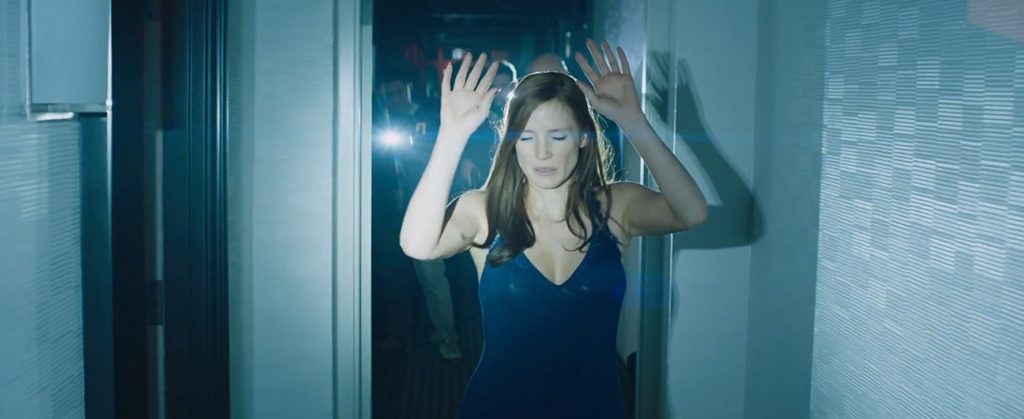 Susan Lyall's costume design is impeccable as she takes Molly from thrift store special to posh poker princess.  At any given moment in the film, one look at Chastain's wardrobe and you can pinpoint where we are in the Molly Bloom saga.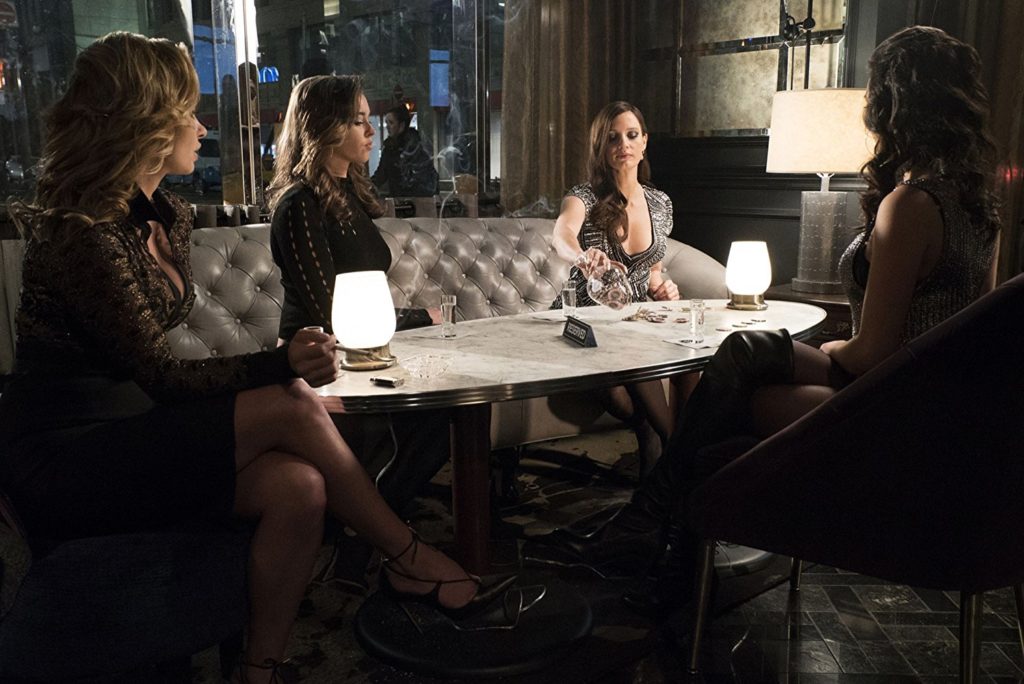 But it's all about story and editing with MOLLY'S GAME as we go back and forth in time with Molly's ever unfolding story. Quite often, time-trips like this can prove confusing, but not here. Award caliber work by editors Alan Baumgarten, Elliot Graham, and Josh Schaeffer. As opposed to story exposition via dialogue or voiceover, but for the opening and setting the stage of Molly Bloom, Sorkin allows the events to visually unfold, aided by key insets of poker play. Effective, immersive, and a powerful storytelling tool. Editing is rapier from beginning to end.
Bet it all on MOLLY'S GAME! It's one helluva game!
Written and Directed by Aaron Sorkin
Cast: Jessica Chastain, Idris Elba, Kevin Costner, Michael Cera, Chris O'Dowd, Bill Camp, Graham Greene
by debbie elias, 11/5/2017