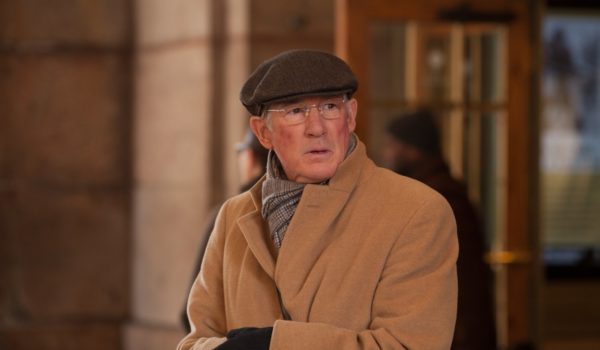 After his work last year in Oren Moverman's "Time Out Of Mind", one wouldn't think Richard Gere could ever top that emotionally transformative and riveting performance, but that's exactly what he does with a character of a different kind in NORMAN: THE MODERATE RISE AND TRAGIC FALL OF A NEW YORK FIXER. NORMAN could be the role that finally delivers that elusive Oscar to Gere.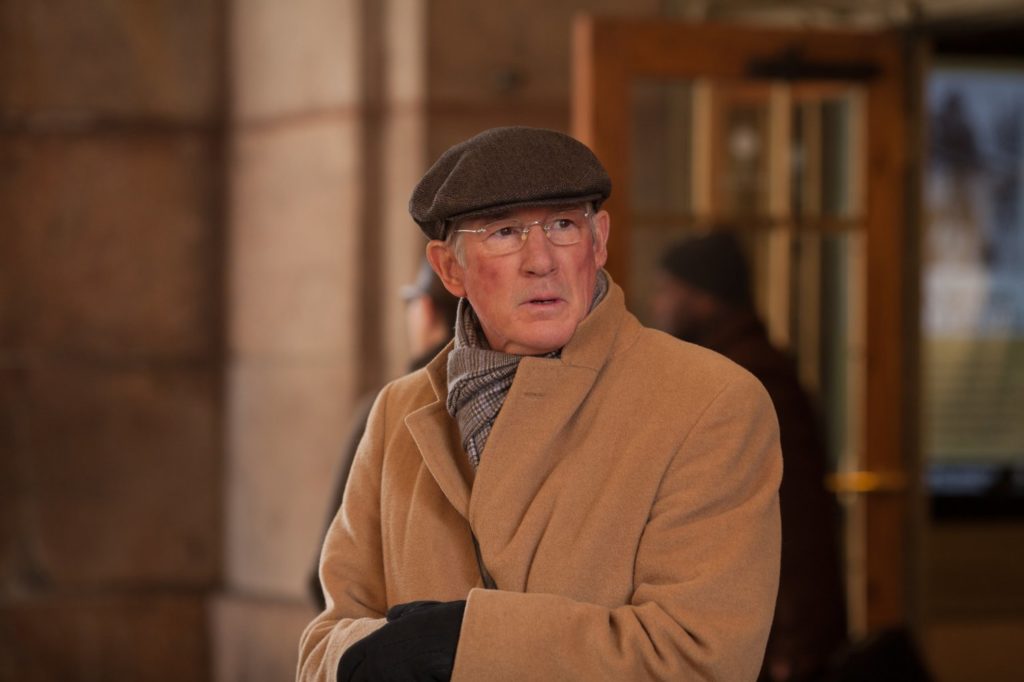 Written and directed by Joseph Cedar, and with Moverman on board as one of the producers, NORMAN is Cedar's first English-language film and follow-up to the acclaimed "Footnote". Not only is this his first English-language film, it is also the first film he has set outside Israel as NORMAN is set in New York. Delving into his own roots and heritage, the character of NORMAN is essentially what was long referred to as the "court Jew", an advisor who rose in the ranks of societal standing along with another individual who is now powerful, only to fall victim to and become the patsy at the hands of jealousy. Also known as a "fixer" or "connector" in today's world, NORMAN is an extremely familiar character to Cedar, as well as to most of us. We all know "Normans" and sometimes feel like a "Norman" ourselves. Normans like to be needed, need to be needed, and because of that need, have their hands in every pot and juggling more balls in the air than one would ever think possible. Norman Oppenheimer is one such man.
On meeting Norman, we know very little about him personally, but we certainly learn about everyone in his circle, and everyone he hopes to bring into that circle. From exaggerations to name-dropping, on the surface, one gets the sense either Norman knows everyone and everyone knows him, or he is the world's greatest purveyor of bulls**t. Almost overly-friendly so as to create an uncomfortable presence, tension is palpable on-screen the minute Norman walks into a room or gets on his cell phone, the latter of which allows him to insert himself into myriad of lives and situations with ease. And favors! Oh, how he loves to do favors for you. But beware, because the day will come when Norman wants those favors repaid and the price of repayment may be more than one can afford.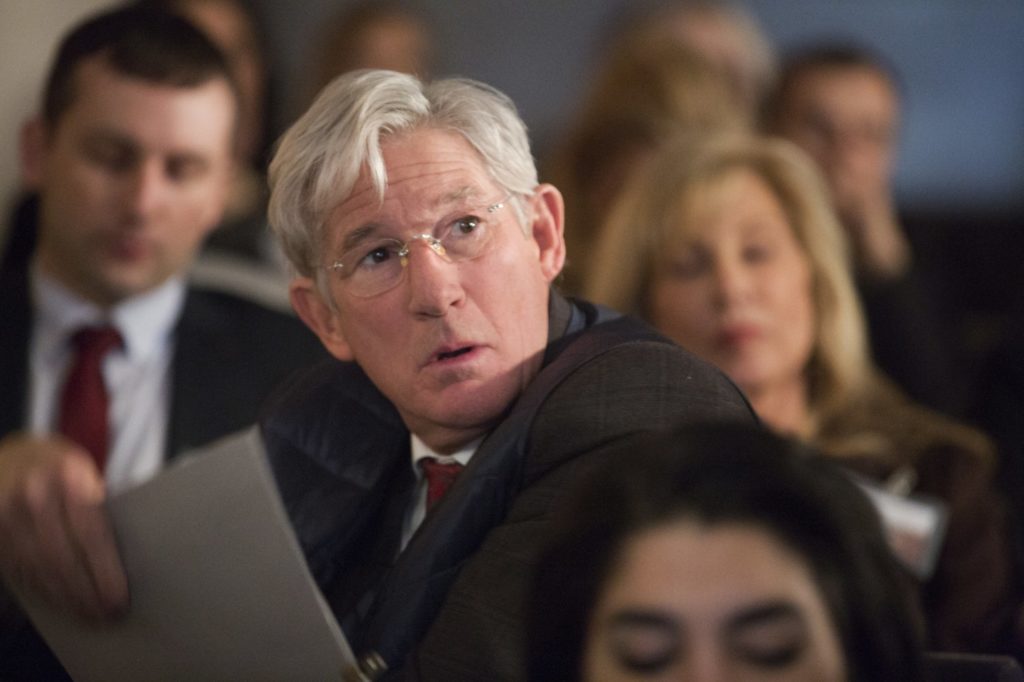 There's also an endearing quirkiness to NORMAN that comes from his loneliness, apparent within moments after one look at his crestfallen face when someone hangs up on him during a phone call. But if you look beneath the "helpful" and lonely veneer, it's not difficult to see a very sincere man with a good heart, a man who doesn't want others to feel the loneliness he feels.
Norman's latest scheme involves his nephew, a law firm, some powerful politicos and financiers, and Israel's Deputy Minister Micha Eshel who is in New York for the week. After much wrangling and fibbing, Norman manages to score a dinner invitation to an important gathering using the as yet never-met deputy minister as the prestigious guest he wants to bring to the dinner. In stealthy stalker-like mode Norman finds Eshel and then cozies up to him in an upscale men's clothing store, ultimately convincing Eshel he needs a new suit and a new pair of shoes. While Norman generously offers to buy the suit and the shoes as a gift, Eshel politely refuses the gesture but Norman eventually sways him to at least accept the pair of shoes as a gift; a $1200 pair of shoes he can wear to dinner with Norman that night. Unfortunately, despite Norman's generosity, Eshel fails to show up for the dinner Norman promised to have him attend, leaving Norman out in the cold literally and figuratively.
Fast forward a few years and Eshel has been elected Prime Minister of Israel and is going to be visiting New York. Will he remember Norman? As luck would have it, after a stretch of time that will have the audience on the edge of its collective seat wondering will he or won't he, Eshel does (and is, in fact, still wearing the shoes Norman bought him) and with just a public handshake and embrace at this elaborate function, Norman is elevated to the status of a "court Jew." He is the apple of everyone's eye. He has the inside track with a man of great power which by extension gives Norman great power. But what will he do with that power. And more important, what will Eshel do with his power in the grand scheme of things and where Norman is concerned.
With Norman and Eshel reconnected, Norman sees himself as Eshel's confidante and right-hand man with the self-appointed right to use Eshel's name as an entre with other individuals. But Norman's daily calls to Eshel, sometimes in multiple, are eventually blocked by Eshel's aides leaving Norman again out in the cold and in over his head, particularly when he continues his practice of talking to anyone and everyone about everything with one of those individuals being an embassy official investigating corruption involving Eshel, bribes, and an "unnamed man." That man is Norman. And all those favors that Norman has been making, including gifting a $1200 pair of shoes, are considered bribes.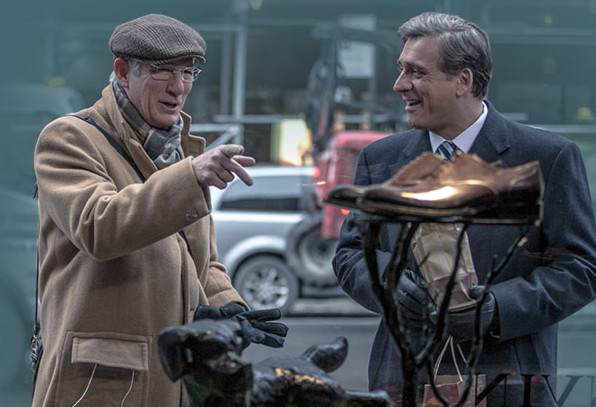 As Norman, Richard Gere mesmerizes. With a character who is always wandering the streets or hanging out in the basement of the local synagogue, Gere's embodiment of Norman provides a sense of his being out of place or just this side of being homeless. Physically, Gere gives Norman a hunched stoop like that of a beggar when plodding through the wintery streets of New York, but with Gere casting his charismatic net, the result is one of humility and sincerity.  Norman's wardrobe consists of a ratty looking and worn camelhair topcoat, scarf and cap. On removing the cap, hair is unkempt giving the look of "Laugh-In's" of Henry Gibson. The shoes are well worn, but polished. But then there's the physical expressiveness, the lowered eyes, the earnestness in his voice over the phone, the rapid-fire excitement as Norman spins tale after tale trying to wheel and deal. There is a sense of a need to survive and a need to belong which comes through thanks to Gere's nuance. And there is always just a little wink and a nod in Gere's step or voice that lets the audience in on Norman's plans. Cedar himself admits that as a result of the months of discussions he had with Gere to shape NORMAN, he was forced to "re-write a scene[s] and sometimes just find an explanation that I otherwise wouldn't have thought I needed to explain why a certain action was happening."
Supporting players start with one of Israel's leading actors, Lior Ashkenazi. A standout in Cedar's "Footnote", the role of Micha Eshel was written expressly for Ashkenazi. As described by Cedar, "Lior is as close as Israel has to a classic leading man. He's an average Israeli, but a little bit better, or a little bit more charismatic or maybe a lot more charismatic. He's a muse for me." Like Gere, Ashkenazi is riveting as we see a marked change in Eshel's presence and persona once he achieves the status of Prime Minister. He stands a bit taller, walks with a stronger stride. Arms are behind his back and with hands loosely clasped below his waist. Appearance makes the man.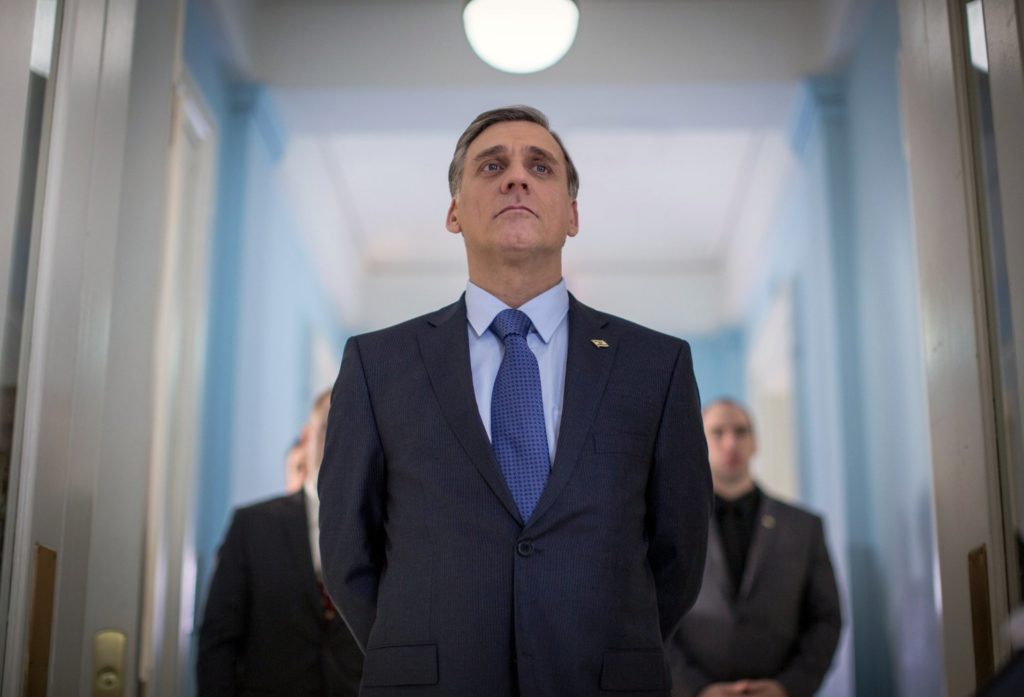 Joining Gere and Ashkenazi are Michael Sheen as Norman's ambitious nephew Philip Cohen; Dan Stevens as Bill Kavish, a hard-nosed assistant to Harris Yulin's uber-rich Jo Wilf; Steve Buscemi with an indelible portrayal of Rabbi Blumenthal; and Charlotte Gainsbourg as the unassuming embassy official, Alex, investigating Eshel's bribery scandal. Also be on the lookout for a fun cameo by one of the film's producers, Miranda Bailey, who certainly makes her mark as an assistant who removes Norman from a dinner party. And Hank Azaria turns up in the third act as a lower level "fixer" who crosses paths with Norman, beautifully serving as a reminder from whence Norman came before his serendipitous involvement with Eshel.
Production values are glorious. Polished, sharp and crisp, it all starts with Yaron Scharf's cinematography. Parallel visual scenes harken back to the days of the Ross Hunter split-screens, but are here melded as if one. Designed to give the constant illusion of Norman invading someone else's space, this creates a more interesting visual conduit for Norman's continual use of his cell phone. Overhead shots and wide angles serve as a metaphor for Norman's aloneness even when amidst hundreds of people. Beautifully executed, Scharf's work showcases that of production designers Kalina Ivanov and Arad Sawat. Particularly beautiful is a white stone fountain in a scene which has Eshel and Norman crisscrossing between each other through the fountain and a dark-wooded walk-in closet.
Brian Kates delivers well-paced editing, particularly in the scene as we wonder if Eshel remembers Norman and his $1200 gift.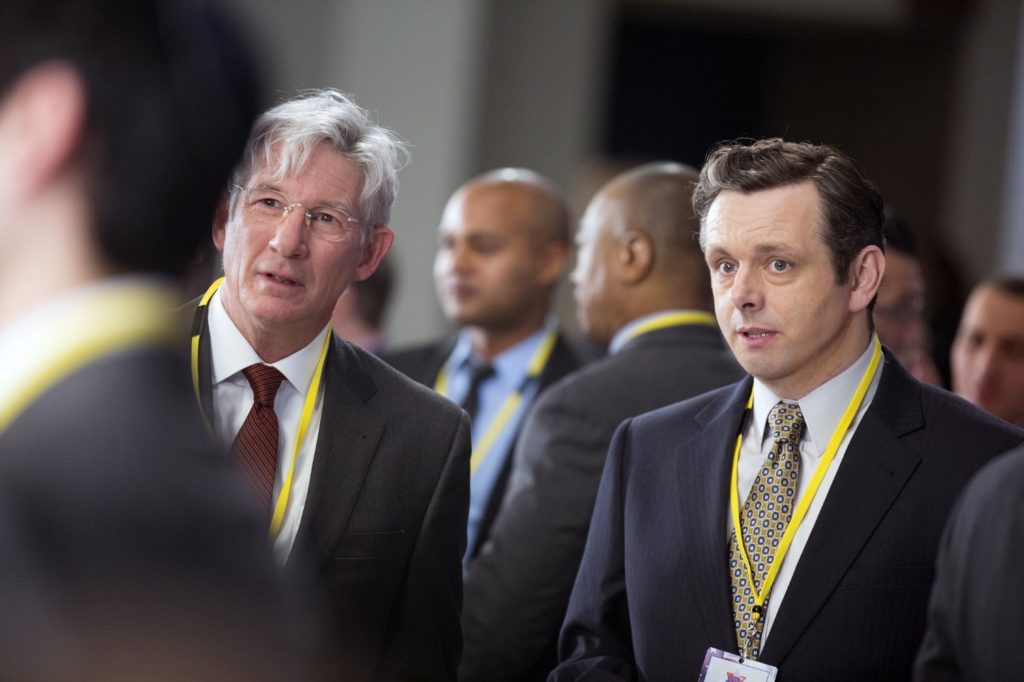 Completing the world of NORMAN is Jun Miyake's score. Steeped in sounds of traditional Jewish folkloric music, there is a bit of whimsy that mirrors Norman's antics. Akin to Weill's "Threepenny Opera", Miyake creates a pathos but with a wink and a nod that lets us know the score doesn't take itself too seriously.
NORMAN could very well prove to be golden for Richard Gere. It will certainly be golden for anyone who sees NORMAN.
Written and Directed by Joseph Cedar
Cast: Richard Gere, Michael Sheen, Lior Ashkenazi, Steve Buscemi, Hank Azaria, Dan Stevens, Charlotte Gainsbourg