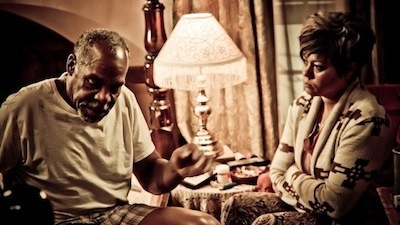 By: debbie lynn elias
Hands down the most powerful film at the 20th Annual Los Angeles Film Festival  and one of my top five "Must See Festival Films" across the board is SUPREMACY.   Based on a true story, with a script by Eric J. Adams, director Deon Taylor demonstrates at every turn that he is gifted storyteller, exploring the dividing lines of race, family and the hate that fuels those lines with an intensity that at times is almost overwhelming with explosive emotion.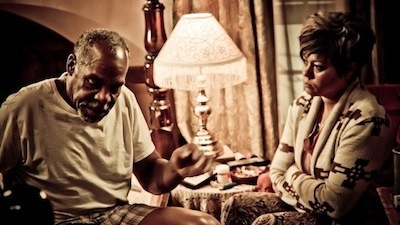 Garrett Tully, a member of the Aryan Brotherhood, had just been released from the maximum security Pelican Bay State Prison not 15 hours earlier when he kills a state trooper.  Now a fugitive and on the run, with the help of Doreen, a friend to the Brotherhood, the two go into hiding by breaking into what they believe is an empty home.  On the contrary, this is the home of the Walker family who, as luck would have it, are the only black family in the neighborhood.
Taking the family hostage, it falls on Mr. Walker to convince Tully and Doreen that killing him and his family is not the answer to his problems.   Walker, himself an ex-con, has no love loss for the cops, so much so he has all but disowned his own son who became one.  Using this connective tissue, Walker hopes to reach Tully and resolve the volatile situation without interference by the police – and without harm to his family and friends. With race and rage fueled debates among the Walker family, we see how divisive the issues are between generations with perceptions of wisdom and patience sometimes taking a back seat to fear and false bravura.
With a cast led by Danny Glover as Mr. Walker and Joe Anderson as Garrett Tully and buoyed by strong performances by Evan Ross, Derek Luke and Dawn Olivieri, by film's end we are as breathless and spent from the unfurling onslaught of emotion witnessed as are the characters.  One of the best, if not the best performance of Glover's career, he is electrifying, encapsulating the mores of society and wisdom of experience  with clarity of conviction.  Oscar voters put Glover on your radar now for Best Actor consideration once the film finds a distributor and releases in theatres (which shouldn't take too long).
Celebratory and significant with the lensing of SUPREMACY is that director Deon Taylor fought to shoot this on film.  Despite all the technological advances today, there is a discernible difference between film and digital, one which here just fuels the emotional and visual grit and determination of the tonal  bandwidth ever deeper.  The ambient nature of film lends to an almost palpable and tangible emotional level, infusing the time and place and volatility of the supremacist psychology and battle with unspoken texture.
Cinematographer Rodney Taylor uses light and lens to embolden the already powerful story, capturing and captivating with a visually visceral thread, and never moreso than in a climactic kitchen scene between Glover's Walker and Anderson's Tully.  From fearful, claustrophobic situations in a closet to navigating the metaphoric hallways, corners and recesses of the Walker home, creating a different kind of choking emotional claustrophobia, Rodney Taylor brings a visual intensity to SUPREMACY that is heart-stopping.  His lens is truly a window to the soul of the characters on the screen and into the conscience of each of us in the audience. Metaphorically extending the issues of race and skin color into the visual palette, the use of color itself is integral to the story.  Then add Richard Molina's editing.  Rapier, precise, Molina bobs and weaves the story, building tension at every turn  and never moreso that in the heart-stopping climactic kitchen scene.
Powerful.  Emotionally charged. Riveting.  Masterful.  Must See.  SUPREMACY is supreme cinema.
Directed by Deon Taylor
Written by Eric J. Adams
Cast:   Danny Glover, Joe Anderson, Dawn Olivieri, Derek Luke, Evan Ross, Lela Rochon, Robin Bobeau, and Anson Mount.
(2014 Los Angeles Film Festival Review)
LAFF Post-Script:   Coming off the hugely successful World Premiere at the 20th Annual Los Angeles Film Festival, Go USA Entertainment acquired the North American rights to SUPREMACY.  A limited theatrical run with an eye towards awards season is planned for 2014.