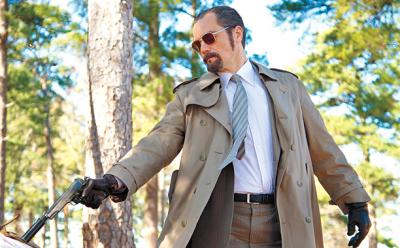 By: debbie lynn elias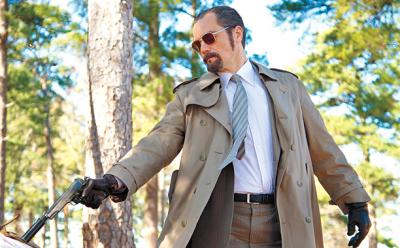 Joining the legendary class of mafia/hitman films is Ariel Vromen's THE ICEMAN. Setting THE ICEMAN apart from the classics like Goodfellas, Scarface, Public Enemy, Angels With Dirty Faces, is the fact that THE ICEMAN is so much more; it goes behind the facade and the headlines and into the bedroom, living room and kitchen of a hired killer. Inspired by the true story of mafia hitman Richard Kuklinski, THE ICEMAN is unrelenting, hitting hard, fast and deep, gripping you with a compelling story, meticulously detailed characters and Oscar-worthy performances, not the least of which are courtesy of Michael Shannon and Winona Ryder.
Hooking up with Roy DeMeo of the Gambino crime family while in his early 20's, Kuklinski proved to have a knack for taking care of the kind of "business enforcement" the East Coast mafia required. Cold and calculating, he had a talent for cold-blooded killing, a skill set that makes it difficult to find more gainful employment in the job market. Of course, no one could know what his job was, least of all his devoted wife and their children. With a cover story of doing "audio dubbing of Disney movies" (he was actually dubbing and distributing porn when he went to work for the Gambinos), Kuklinski was the master at living two lives. On the one hand, a loving husband and doting father. On the other, ruthless killer who was ultimately responsible for over 100 mob hits (Kuklinski himself claimed 200) in the eastern Tri-State area in the 70's and early 80's. Setting Kuklinski and other mafia affiliates apart from common criminals of the streets was their code of honor, code of ethics. Never hurt innocents. Never hurt women and children. Eventually ousted by DeMeo, Kuklinski hooked up with "freelancer" Robert Pronge aka Mr. Freezy/Mister Softee and the two of them forged a fruitful partnership, continuing with their own hits on targets, trademarking them with deaths by torture, cyanide and then freezing the bodies before dumping them, thus masking the exact time of death.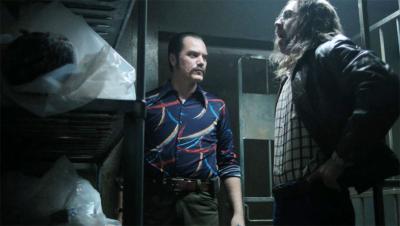 While the mob wars were heating up between the Brunos, Scarfos, Genoveses, Gambinos and DeCavalcantes before coming to a head in 1980, THE ICEMAN was quietly making his own mark, establishing his own reputation, while still attending church on Sundays and making every PTA and school function. Set during the time frame of 1964 to 1986, when Kuklinski was ultimately arrested, writer/director Ariel Vromen together with co-writer Morgan Land recreates the real life events plaguing the tri-state area with a shocking and immersive level of intimate authenticity, leading us into the underworld and under the skin of Richard "THE ICEMAN" Kuklinski.
As Kuklinski, Michael Shannon is transformative and Oscar-worthy. Described by co-star Winona Ryder as "a very focused," and "very intense", Shannon is indeed intense, compelling and complex. He is mesmerizing, making Kuklinski larger than a life, a mafia giant. He commands the screen with his imposing figure, creating a visual dichotomy of the emotional complexities harbored within the man. Admitting to never hearing about Kuklinski before THE ICEMAN, he did "rely on the interviews (prison interviews with Kuklinski for a documentary). I actually got the unedited interview, which is very long, like over 20 hours long and I watched it a lot. I mean it's an interesting contrast because on one hand is the script, the material, there's no way that it's going to encapsulate his entire life in 90 minutes. That would be a ridiculous task, but you want to approach what is there with as much authenticity as possible. I was trying to be like him."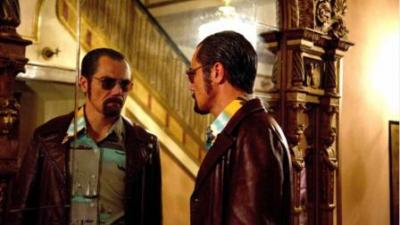 In terms of "getting into Kuklinski's head", Shannon notes, "A lot of that starts with the script and it starts with Ariel [Vromen] and starts with Ariel letting me know the kind of film he wants me to make. He was very adamant from the get-go that he wanted Kuklinski to be empathetic character, or not to be entirely menacing all the time. Ariel found that Kuklinski had a certain charisma that he wanted to capture and I couldn't say I disagreed with him. When I watched the interviews he was very engaging and if you didn't know what he did for a living, you could probably talk to him for quite a long time and have an interesting conversation. But in terms of capturing that human element. . .I find it very easy when you put me in a room with Winona and the girls playing the daughters. It's just an instinct."
As wife Deborah (whose real name is Barbara), Winona Ryder delivers the performance of her career with a genuine naivete and blind love. Between the spot on NJ accent, the physical performance, the emotional nuance, not to mention the period perfect hair and costuming (she describes herself as an actress who "like[s] to work from the shoes up"), Ryder perfectly captures the era and its very essence, a true testament to her acting skill. Interesting is that while THE ICEMAN retains the argument that Kuklinski's wife had no idea of his real "employment", Ryder begs to differ. "[T]here's no way to be in a relationship for that long, to have kids and also, this is the 70s. This is the era of offices and secretaries and he doesn't have either. She's doing his laundry and he's shooting people in the face and there's clearly going to be some blood there. There's just too many things.. I mean, I just think that the level of denial was so deep and that for her to even get to a place to acknowledge it would have meant she would have had to take some responsibility and then also leave and raise these kids on her own which she should have done, and many women do, but there was a real sort of greed. There was an ugliness, I thought, that I tried getting in there." [CAVEAT – For those interested, Barbara Kuklinski penned the 1994 autobiography Married to the Iceman in which she admits to learning about Kuklinski's true vocation at the time of his trials, but further alleges physical and emotional abuse to herself and their daughters, abuse that started even before the couple were married.]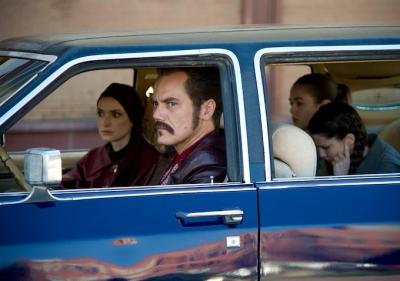 But then look to the supporting players for authenticity and screen command – Ray Liotta's DeMeo, Robert Davi's Leo Marks, Chris Evans' bone-chilling Robert Pronge aka Mr. Freezy/Mister Softee, Danny Abeckaser's Dino Lapron (Kuklinski's best friend), Stephen Dorff's Joey Kuklinski, David Schwimmer's Josh Rosenthal and James Franco's Marty. Every character a real life player in the Kuklinski world. Every performance dynamic, powerful and telling.
Interesting is the history of Robert Davi's character, Leo Marks. In truth, Marks is Anthony Gaggi, then captain of the Gambino crime family. The name was changed in large part due to the "literary license" taken by director Vromen as Gaggi didn't die the way it's depicted in THE ICEMAN. Other circumstances surrounding Gaggi are also not factually correct and thus the need to fictionalize the name.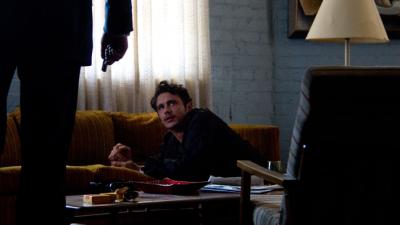 Although pulling the story primarily from the HBO documentary and the corresponding Kuklinski prison interviews as a basis for THE ICEMAN, writer/director Ariel Vromen wisely elected to put aside the tabloidesque nature of Kuklinski's alleged kills (including boasts of killing Jimmy Hoffa together with 4 others from the Genovese family) and concentrate on humanizing one of the most inhumane individuals around. Key to tapping into that humanity was not only with the casting, particularly with Michael Shannon, but also in the supporting cast and then giving each actor at least powerful scene that humanized not only each of them, but Kuklinski. Perfect examples include James Franco, Stephen Dorff and of course, Danny Abeckaser. Powerful in both a humanizing and demonizing sense is a key scene with Franco. As intended victim, Marty, he is on his knees, praying, crying, begging for mercy or absolution while Shannon's imposing figure looms overhead. Another stems from Dorff's performance as Kuklinski's brother Joey. Imprisoned for rape and murder of a 13 year old, Ritchie visits Joey in prison and while forceful and "pissed off", still delivers moving care and concern for his little brother. And of course, Abeckaser's Dino just makes you feel like Kuklinski is just one of the guys hanging out. All are telling and constructive to the development of Kuklinski. One shortcoming which could have added even greater depth and gravitas to THE ICEMAN and Kuklinski as a "man", was Vromen's decision to forego obtaining any of the trial transcripts from Kuklinski's two trials. Tried and convicted on only 5 counts of murder, Kuklinski was ultimately sentenced to two consecutive life sentences in the Trenton State Prison where he remained until his death in 2006. (As a side note, Kuklinski died on March 5, 2006, just days before he was testify for the government against Gambino crime family boss Sammy "The Bull" Gravano.)
Adding immense truth and texture to THE ICEMAN is Robert Davi himself who not only knew about Kuklinski, but knew people who were friends and associates of the crime families and specific individuals, including Roy DeMeo. Coming on board THE ICEMAN, Davi divulged some of his personal knowledge to Vromen, something Davi describes as "an interesting thing for me to know about" and something that adds meaning to the characters and story at hand. " I knew about the relationship between Roy DeMeo and David Schwimmer's character, Josh Rosenthal. Between him and that character there's a 'very special relationship.' And I knew about that relationship from friends of mine that knew Roy DeMeo. They were lovers. So, in that scene that I have with Ray [Liotta] and he talks about the father-son thing, that's the subtext of my understanding, and I never brought it up to ray directly. I told Ariel that I wanted to play this and to make sure he captured that ambiguity that I'm giving into that storyline."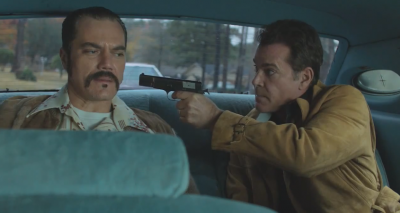 When it came time for Roy Liotta to play Roy DeMeo, he was no stranger to the story at hand. "I knew Kuklinski. I only knew of him through because I watched that HBO documentary [The Iceman: Confessions of a Mafia Hitman]. As for DeMeo, "I read about him. There are biographies on A&E on a bunch of mafia guys. They have stuff so you can get it on the computer. I read books. His son wrote a book about which was fascinating. . . So I did that. You know what your job is, and what the director and the story ask of you, and you just do it."
Danny Abeckaser who plays Kuklinski's best friend Dino Lapron was also well aware of Kuklinski and his story. "I loved the HBO documentary. I couldn't stop watching this guy. I was so fascinated by him. . .I knew the story." Pivotal to humanizing Kuklinski, Abeckaser notes, "The role I'm playing is actually a real person. I felt like if I just do that. . .I would be able to bring out that side of Ritchie [Kuklinski]. I feel like Dino is the only person besides his family that brings out the human side of him. He laughs. He talks to him. He has a relationship with him. He trusts him. That's what I really liked about my character."
Still a relative newcomer to the world of heavy-hitters like Shannon, Liotta, Franco and Ryder, Abeckaser looks at THE ICEMAN much as the average movie-goer, focusing on the personal side of Kuklinski as opposed to the alleged 200 murders he committed. "I thought that was what made it interesting. In every story, even in the movies that I'm developing and trying to do, I pay attention to the character and to developing and introducing the character. I want people to sympathize with the character. I want people to care about the character. All those things become very important. Obviously, it's very hard to make a killer likeable. I felt that Ariel [Vromen] made the right decision by concentrating on [Kuklinski] and his family. . .At the end, even though you know he's a killer, you feel bad because of the kids and that he's actually a good dad. That's what I think makes the movie a great movie. . .You've got to get into that character."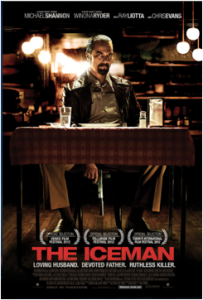 Cinematographer Bobby Bukowski sets the visual tone with a grim, gritty, dark murky look of the late 60's and 70's Jersey, Philly and NYC while editor Danny Rafic weaves a hypnotic spell, seamlessly melding violence and the calm of family capturing the physical and emotional dichotomy with smooth juxtapositioning. Icing on the cake is Haim Mazar's score punctuated with Top 40 hits of the era.
THE ICEMAN – so slick, so smooth, it will send a chill through your veins.
Directed by Ariel Vromen.
Written by Vromen and Morgan Land
Cast: Michael Shannon, Winona Ryder, Ray Liotta, Chris Evans, Robert Davi, James Franco, David Schwimmer, Stephen Dorff, Ryan OfNan, Danny Abeckaser