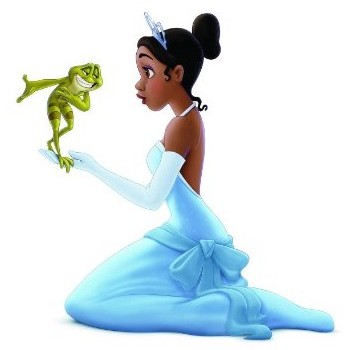 By: debbie lynn elias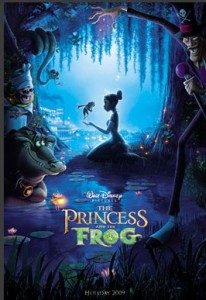 Once upon a time there was a kingdom called Disney.  Presiding over this kingdom was a man named Walt who had an imagination, not to mention a touch of magic, that surpassed all others. Using his magic for good, Walt and his team of artisans, artists and animators, created worlds of wonder and beauty and music, bringing them all to the movie screen in what soon became the most beloved musical fairy tales of all time.   Cinderella, Snow White, Sleeping Beauty, gave wings to dream for every little girl who saw them.   At the heart of these magical tales were handsome princes, beautiful princesses, wonderful stories, wicked witches, evil queens, funny animals, music, adventure, warmth, grandeur, opulence, laughter and love, buoyed with good storytelling and all brought to life through the skill and talent of Walt's nurturing magicians starting with putting pencil to paper to draw, to write, to compose.    But along the way, technology pushed this "personal touch" style of magic out of the forefront, instead showcasing the sharp, crisp inventiveness of computer animation.  However, one of the leaders of the new technology, John Lasseter, never forgot the beloved storytelling and richness of Walt's original magicians and together with producer Peter Del Vecho, now rekindles that magical art form of "classic" 2D Disney, complete with a princess for the 21st Century, a frog prince, an evil voodoo master, a beloved and wise fairy godmother, gumbo, jambalaya,  jazz playing singing and dancing alligators, and an Evening Star named Evangeline, with what is may be one of the most magical of all Disney fairytales, THE PRINCESS AND THE FROG.
Loosely based on the "The Frog Prince" by the Brothers Grimm and E.D. Baker's "The Frog Princess", our story takes place in 1920's New Orleans.  Jazz reigns king and the sound of music and parties fill the night air.  But all is wasted on a young girl named Tiana, who dreams of opening her own restaurant, a dream she shared with her late father and one that she is determined to fulfill.  Working hard as a waitress, saving every nickel she makes, Tiana has no time for romance, no time for fun.  Her dreams are more than those of her girlfriends who only look to find a prince of a guy to marry.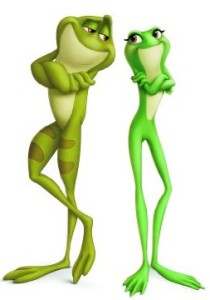 Ironically, someone's dreams just may come true thanks to the arrival of Maldonia's Prince Naveen.  Handsome to a fault, albeit spoiled rotten, Naveen has made his way in the world on his family's money and his good looks.  Unfortunately for him, however, his parents got a little tired of the freeloading and cut Naveen off, forcing him to fend for himself.  But "work" is not a word in Naveen's vocabulary.  Looking for the good life and drawn by the jazz music of the French Quarter, Naveen now finds himself in New Orleans, dreaming of finding a princess of his own, with enough money to support Naveen in the life to which he has been accustomed.
Now, New Orleans isn't all about music, merriment, good food and good friends.  New Orleans is also about voodoo and dark magicks.  And leading the way to the "dark side" is the evil Dr. Facilier who sees Prince Naveen as an easy target.  Wanting the easy life and privilege of that of a prince, and with Naveen wanting a princess, Facilier has no problem luring Naveen into making a deal with the devil, a deal that turns Naveen into a frog!
In the meantime, Tiana is herself wondering if maybe her girlfriends aren't right, and if maybe the stories of her childhood about wishing on a star aren't really true.  Deciding to give fanciful dreaming a try, she makes her own wish on the Evening Star, a wish for a handsome prince with money to build her restaurant.   You know the saying, be careful what you wish for?  Well, Tiana quickly finds out that wishes can come true as she find her prince – Prince Naveen – only he's a frog.  So what do you do with a talking frog?  Why what every storybook tells you, of course!  Kiss him and he turns into a handsome prince.   But here's where the magic seems to backfire in our story.  Or does it?    As Tiana kisses Naveen, something goes a little awry because instead of Naveen becoming a handsome prince, Tiana becomes a frog.  Uh oh.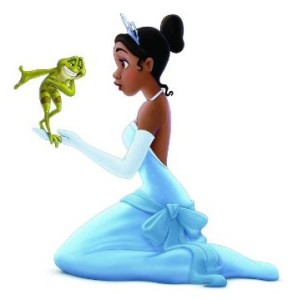 With both Tiana and Naveen desperate to return to human form, they learn of a 197 year old priestess named Mama Odie who lives deep in the bayou.  Can Mama Odie help them?  Only one way to find out.  But there's a catch.  Facilier is hot on their heels as he doesn't want Naveen to figure out the secret to reversing the spell that transformed him into a frog and Facilier into a prince.   Setting out on an impossible journey, together with the help of a lovesick little firefly named Ray and a Jazz-playing trumpeteer alligator named Louis, Tiana and Naveen encounter more adventures than either ever dreamed, as they find out that dreams really do come true – at least with a little tweaking and redirection.
Tony winner Anika Noni Rose easily fills the shoes of Tiana.  Always dreaming of doing a Disney film, for Rose, who would have been happy as a "a tick or a flea", playing Tiana is a dream come true.  Jim Cummings steals the show as Ray the Cajun firefly.  Having received the blessing of master voicer Mel Blanc years ago, Cummings has voiced everything from Tigger to King Louis to Kaa the Snake to Pooh himself, but as Ray, he steals your heart.  Oprah Winfrey gets into the act as Tiana's mother, Eudora, while the ever sexy Bruno Campos (you may remember him from "Jesse" with Christina Applegate) is ideal as Prince Naveen, adding both a pomposity and sincerity to our wayward Prince.    Jennifer Cody is a delight as Tiana's best friend, Charlotte.  With a squeaky little girl voice, her enthusiasm is unparalleled.     No stranger to voicing, Keith David is at his evil best as Dr. Facilier while Jenifer Lewis is beyond entertaining as the all knowing Mama Odie.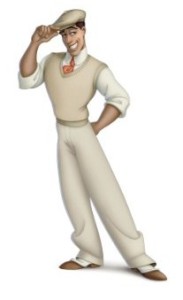 Lewis is fantastic!
The secret to the mastery of  THE PRINCESS AND THE FROG (beyond the exquisite hand drawn animation) is story.  Thanks to a strong narrative compliments of screenwriters/directors, Ron Clements and John Musker, and writer Rob Edwards, the characters have a vibrancy and life-giving energy that is engaging and entertaining, raising the intelligence level of the story to eloquently combine fantasy with 21st Century sensibilities (i.e., a princess that works and has a career – a first for Disney, not to mention a prince whose parents want him to work and learn the value of a dollar).    Adding to the luster is the heart and humor that each character imbibes that,  while in some cases breeds familiarity to Disney classics of old, is so fresh and original that you are drawn ever deeper into the film.  At the heart of the story is a musical fairytale that celebrates the very essence of Walt Disney.
Directors Musker and Clements, the men behind "The Little Mermaid" and "Aladdin" have brought us the best Disney animated film in many a year.  The first hand-drawn Disney animated film since 2004's "Home on the Range", the Disney magicians are at their peak.  Capturing the authenticity of New Orleans and especially its Garden District, Musker and Clements, along with their team of supervising animators, celebrate the very essence of the 1920's with everything from architecture to design to clothing to the Bayou to voodoo to food.   There is a warmth that exudes from each character, each background and the city as a whole, capturing the minutest of details, which in and of itself tells of the great love and attention paid by each artisan to this project.  Look no further than the  New Orleans Audubon Zoo where animators found plenty of inspiration for flora and fauna and some of the interesting creatures that appear throughout the film, not the least of which are alligators.  Notable is the trumpet playing alligator Louis, so named in honor of Jazz legend, Louis Armstrong.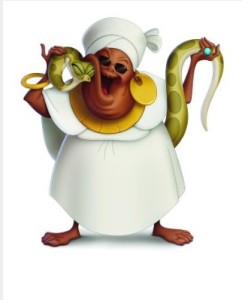 But talk about a return to Disney's hallmark – 2D animation!! Elegant, soft lines, rounded figures, evenly tempered color palette, detailed backdrops, and even some familiar faces from Disney animation tales over the years (gators looking like those in "Peter Pan" and particularly, "Sword in the Stone" – but for not being pink and purple).  Everything about this film is so perfectly done and memorable. You see the patented rounded cheeks, the sweep of a waitress dress that moves like Cinderella's tatters, a snippet of hair that falls beneath a head scarf. There are touchstones for those of us who grew up on Disney 2D, yet the quality of the craftsmanship is so impeccable that it draws in an entirely new audience. The softer yet richer brilliance of 2D is a welcome change and alternate to the eye popping CGI of late.  Particularly strong is the attention to perspective and point of view, paying great attention to the bulk of story being told from a "frog's eye view."
Is that an Oscar orchestra that I hear welcoming composer Randy Newman to the stage?   Key to THE PRINCESS AND THE FROG is the music of Disney veteran Newman, who not only composed the score, but wrote seven new songs that celebrate the South and the sound of New Orleans jazz. An integral part of the film, the music and songs propel the story, adding new dimension and its own levels of color, complimenting the beauty of the animation.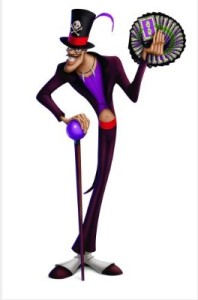 Enhancing the whole fairy tale experience for me was my new little friend, 5 year old Katrina, who was also screening the film. So enamored with the story and the animation, I don't think she blinked the entire film but for her eyes to get bigger with wonder and her mouth to go into a circle gasping with oohs and aahs and laughter.   Sometimes all it takes is the eyes of a child to reinforce the  wonderment of Disney magic.  And I have to agree with her review.  Describing Tiana as "beautiful", her favorite part, and one of mine, was watching the frogs get squished and then hop back to life.
From fireflies to an Evening Star named Evangeline to a bayou wedding (which is the single most spectacularly sumptuous, beautiful and exquisite sequence of the film –  simply breathtaking) to voodoo, friendship and frogs, there is nothing that I don't love about this film. The story is beyond appealing and the message about wishing, wanting and knowing is wonderful.    A timeless classic, THE PRINCESS AND THE FROG is  magical, simply magical.
Tiana – Anika Noni Rose
Naveen – Bruno Campos
Mama Odie – Jenifer Lewis
Ray – Jim Cummings
Dr. Facilier – Keith David
Directed by John Musker and Ron Clements.  Written by John Musker, Ron Clements and Rob Edwards.