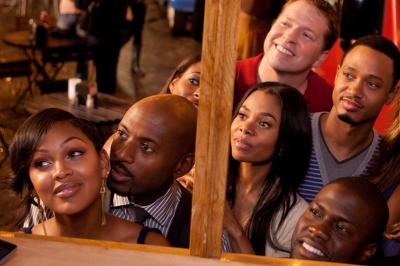 By: debbie lynn elias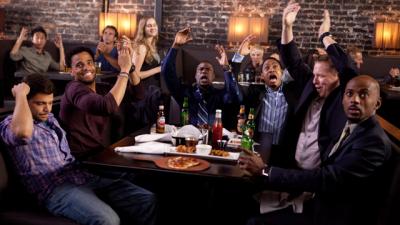 While I may not be a Steve Harvey fan per se, I am a fan of all things funny, especially when funny comes in the form of a great ensemble cast, well told organically unfolding intertwining stories and characters, and all packaged as a gem of a film shot in, of all places, the Heart of Screenland – Culver City. And this is exactly what director Tim Story gives us with THINK LIKE A MAN – a funny, funny film filled with heart and laughter.
Based on Steve Harvey's best-selling comedic advice book "Act Like A Lady, Think Like A Man", we are presented with multiple intertwining stories of coupledom that serve as examples to support the theories espoused by Harvey, with the difference being a heartfelt cohesive story as opposed to stand alone chapters in a book. Men and woman are basically defined by very distinct character traits. We have The Dreamer, The Player, The 90-Day Rule Girl, The Woman Who Is Her Own Man, Mama's Boys, The Ring Girl, The Non-Committer, The Single Mom, etc. And, of course, depending on what your archetype is can be a help or a hindrance when finding the perfect mate and getting what you want.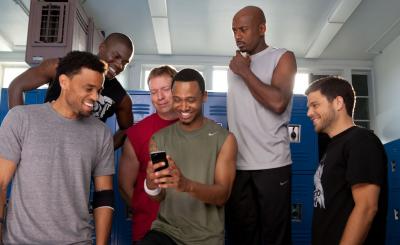 Dominic, Zeke, Michael, Jeremy and Cedric are lifelong friends. Bonding over basketball, this macho quintet are the perfect stereotypes of Harvey's theory. Dominic dreams of owning his own restaurant and leading a quiet and fulfilling life. Jeremy likes things just fine the way they are with Kristen, his girlfriend of nine years. Zeke is quite possibly the king of the ""wham, bam, thank you man" date while Michael is tied so tightly to his mama's apron strings I expect him to die of strangulation. And Cedric. Well, poor Cedric. He had a good thing going with his wife Gail, but believing that being a frat boy for life more fulfilling than a lifelong marriage, he lost the wife, lost the house, lost the money and is now awaiting his final divorce papers while trying to convince himself he loves the single life, hanging with the boys and flopping at Zeke's fine bachelor pad.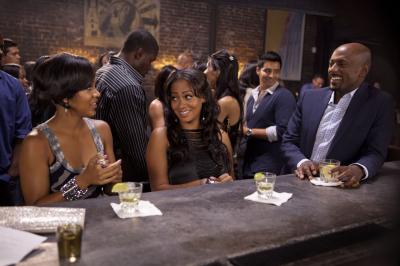 On the other hand, our girls are their own worst enemies when it comes to getting what they want; that is, until they read Harvey's book. Candace is a hard-working single mom with a son who loves her and a nursing career of which she's proud, but she wants a man again. Mya, not quite sure what she wants, does know she doesn't want to jump into bed with the first man she meets. And Kristen. Well, she's living with Jeremy, her beau of nine years, but their home looks like a booth at Comic-Con and she fears Jeremy will never outgrow this geeky frat boy stage. Then there's Lauren. A leader in the corporate world, she needs no man. She is completely self sufficient and believes that any man that is not her intellectual, professional and monetary equal is not an asset to her life, but rather a deterrent and thus, not needed. But that doesn't do anything to end her lonely nights.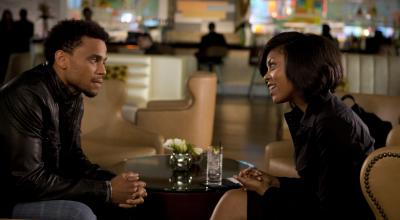 And of course, we quickly see potential pairings amongst our two groups. We already have Kristen and Jeremy together. But then Zeke and Mya start a little something as do Candace and Michael. While Lauren is swept off her feet by Dominic who, unfortunately, isn't quite truthful about who he is. But while the girls are falling head over heels for the guys, things aren't going quite the way they want them to. So how do you make the two worlds come together and end up in blissful coupledom? Simple. Women have to start to THINK LIKE A MAN. And that's exactly what our gals do once they get hold of Harvey's book. But what happens when the guys find out what the girls are up to?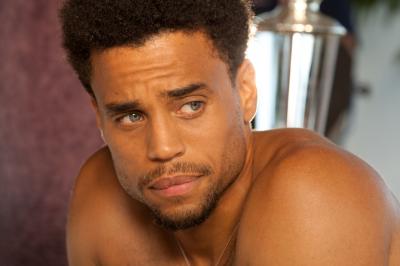 As for the casting, everything is covered from soup to nuts and each is as good as the next, starting with Michael Ealy. With his performance as Dominic, Ealy should be firmly solidified as a romantic leading man. I have to admit that even I melted to my knees not only thanks to his eyes (ladies, pay attention!!) but his entire demeanor. While previously known primarily for his comedic skills, notable here is that Ealy is able to serve more as the straight man, with that soft romantic edge, while the hilarity ensues around him. Complimenting Ealy and his character of Dominic is Taraji P. Henson, who is perfection as Lauren. No matter what role she tackles, she always has this great confidence and strength to her. Here is no different, but then she balances that confidence with great subtle nuance with her eyes, facial expression and hands, that gives her a comedic touch.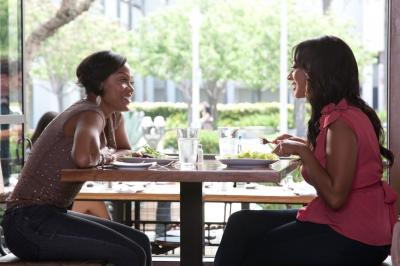 Regina Hall is beyond realistic as single working mom Candace whose top priority is her son. She gives Candace a very thoughtful and practical edge while showing both the sensitivity and frustration of motherhood…and dating. Her pairing with Terrence J's Michael is also very realistic as it takes a mother to handle a mama's boy. And what a mama's boy! Terrence J is hysterical as he is led by the nose by his mother and plays the part with complete oblivion to the circumstance which only makes him funnier. Adding real fire to this particular mix is scene-stealing Jenifer Lewis who is DIVINE as Michael's mother. Although Meagan Good and Romany Malco are my least favorite pairing, they serve the film well as Mya and Zeke with Good bringing an uncomfortable bitchiness to Mya while Malco just makes Zeke annoying at times, albeit funny.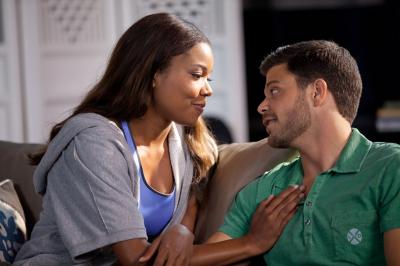 As comes as no surprise, Gabrielle Union and Jerry Ferrara are perfection as Kristen and Jeremy. Comfortable, casual, easy breezy. A BFF feeling that is a perfect counter to some of the more intense coupling going on.
Using Steve Harvey as himself and Kevin Hart's Cedric to act as narrators and "the stereotypical male perspective", respectively, is brilliant! As for Hart, I could watch him all day. He just gets funnier and funnier and will have you laughing from beginning to end. According to Tim Story, "You didn't have to worry about him being funny. If you ever needed a jolt, you could just go over to Kevin and say, 'I need something here.'" Having Hart also relieved not only Ealy of carrying the comedy load and establishing the comic beats of the film, but as opined by director Tim Story, "everybody could play roles appropriately and not worry about being funny on this end or leading man sexy on this end. You just [got to] play your role."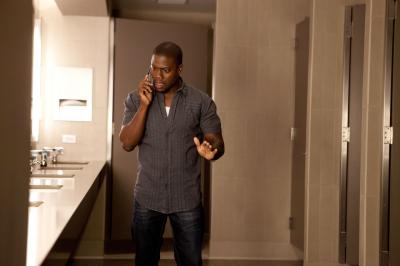 And not to be missed is an indelible cameo by Wendy Williams as Cedric's wife, Gail. I am still at a loss as to who's funnier – Williams or Hart.
With a great ebb and flow to the film, Tim Story is proud that "everyone was telling the same story. . .we were all riding the same direction. " There was no grandstanding or individual interpretation of what the film should be. "That was meticulously worked on. There's a time to have disagreements and a time to make sure we're all doing the same thing. So that when you get to the set, we can have fun." As I saw for myself when I popped by the set a few times during filming, Story is "not a screamer. I like everybody to laugh. I'm a practical joker. I like everybody to have a lot of fun because I think that element transcends and gets in front of the camera" thus making his biggest enemy on this film, "so many pages in so little days."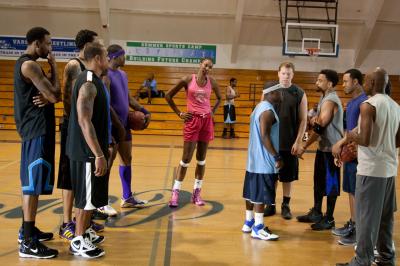 Written by Keith Merryman and David A. Newman, key is that rather than use Harvey's book as a crutch, it is used a starting point for creating characters that are not only likeable and embraceable, but who will resonate within each of us. Not only do you find yourself wanting to be friends with this cast of characters, but within minutes, you feel as if you've known of them for years. Interestingly, the film never gets bogged down in any race issues and is, in fact, so comfortable in its own skin, only after the fact do you even realize the bulk of the cast is African-American. Yes, some of the situations appear (and are to an extent are) mechanized contrivances to fuel the relationships and the film, but they never feel that way.  Everything is very natural, unpressured and free flowing.  The respective coupling plots are organically intertwined thanks to the male bonding basketball games serving as the cohesive element that provides the summary and discussion of the transpiring events. Similarly, the girls cross paths over wine and lunch and dish their side of the story which superbly showcases the distinctively different points of view and interpretation between the sexes of the situations at hand.  Appreciated is that the film is beautifully bookended so as to give the audience an enjoyable satisfaction at film's end.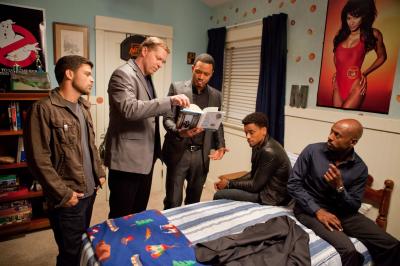 Given the recent uproar and backlash stemming from Whoopi Goldberg's use of the "N" word on "The View", I give you fair warning that you will hear the "N" word used quite frequently in THINK LIKE A MAN. Some may take great offense to its use, however, that said, I do not and its usage feels appropriate in its given context. I spoke at length with Story about the situation and while there is nothing malicious about its use, there is always potential for backlash. "If there is backlash, I invite the conversation. There's been a lot of debates about who can use it , when you can use it, this and that. I just know that with this group of friends, no matter…when I'm just with my black friends, we use the word. And some of us will use it and we're mocking it because we know all the history that comes with it and all the stigmas that come with it. So we sometimes mock it…and we say it and use it. My point is, is that we do use it. And no matter the most intelligent Black person, no matter how educated they are, will use it in some way, shape or form. They may just be mocking [but] they use it. So, I wanted to allow the actors in this movie to [do it]. I figure if we made a classy enough movie, it would not have the stigma that normally comes along with it. . .There's just this thing about the word. It gets a lot of attention. But the truth is, we do use it. I wanted this film to be truthful to the way this group of friends would probably deal with the word."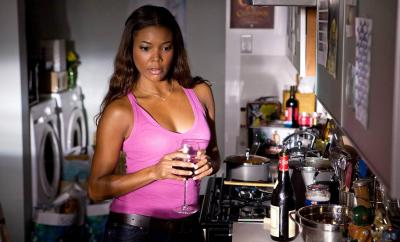 As a director, Story maintains a high level of energy thanks not only to Kevin Hart's comedy beats, but also Peter Elliot's crisp editing, which is clean and tight, creating a steady fast pace. The icing on the cake is Larry Blanford's highly polished cinematography which has its own level of crispness, enhancing the beauty and craftsmanship of Culver City and its eclectic architecture with homes and locations dating back to the 20's, while celebrating the new trendy, fun places to meet and congregate like Rush Street, Akasha and L'Epicerie. (And if you want to act and THINK LIKE A MAN, I'm sure Rush Street will accommodate you with the very tables occupied by our men!) Kudos to production designer Chris Cornwell for his location and design choices which are top notch, creating a varied palette of looks for our couples and their domiciles, while keeping everything in a middle class to upper middle class experience, just like the restaurants that are showcased. Even the Culver City High School gymnasium gets some screen time, along with some very special cameo appearances on its court!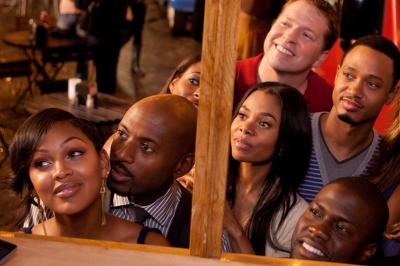 As for filming in Culver City, Tim Story wouldn't have it any other way. Describing himself as "ecstatic" on learning that Sony was going to support shooting in Culver City, he makes the City a tangible character.  "I couldn't even shoot every place I wanted to shoot. Culver City is just beautiful. . . It's like old world meets the modern time. At the end of the day, we as filmmakers love shooting in old buildings. There's so much character and there's just something about the way we built in the old days. There's a texture to it. There's a personality to it. There's something about Culver City they've been able to retain. Even when you look at a place like Rush Street, the ceiling, the beams and all of the stuff, a little bit of that was there before they got there, and they used it. That's what's been cool about Culver City. They've been able to keep this texture to it and I just love it. . .[And] there's these energies all over the place."
THINK LIKE A MAN is Tim Story's love letter to laughter, love. . . and Culver City.
Dominic – Michael Ealy
Lauren – Taraji P. Henson
Kristen – Gabrielle Union
Jeremy – Jerry Ferrara
Cedric – Kevin Hart
Zeke – Romany Malco
Mya – Meagan Good
Michael – Terrence J
Candace – Regina Hall
Directed by Tim Story.
Written by Keith Merryman and David A. Newman based on the book "Act Like A Lady, Think Like A Man" by Steve Harvey.